Roberto Carlos Lange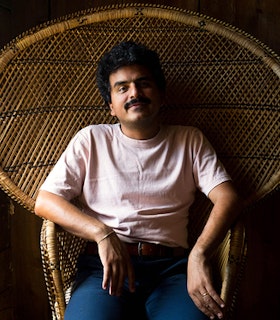 Receiving the Foundation for Contemporary Arts Grants to Artists Award was at the center of so much that was good for me this year…As we began planning how and where to present the performances for this new music, we were offered so many opportunities that were ambitious and also difficult to realize without better resources. The funding from FCA helped me realize over 90 performances all over the world and multiple sound and visual projects…Our schedule for seven months was constant with rehearsals, travel, and work. Having the confidence to finance the project opened the flow of good work and successful performances.
- Roberto Carlos Lange, January 3, 2020
Artist Statement
Music is central to my artistic practice, but it unfolds into multiple parts across many integrated mediums, on stage and screen. I often think synesthetically through aural, visual, and movement-based forms; I see this approach to sound and music as informed by multiple histories, of interest to me, from organic forms in cultural vernaculars, as it arises in homes and communities, to the history of formally staged art, such as experimental performance, to how it travels through objects, in the digital realm. Through fifteen years of touring and experimenting with live performance, I have used elements of theater, considering lighting elements, costume design, choreographies, and created my own visual language and mythology, including "Tinsel Mammals," uncanny costumed dancers, at once warmly familiar and otherworldly. Additionally, I have studied animation, which I have used for multiple music videos, and have an extensive background in sound art manifesting in sculpture, installation, and performance in gallery settings.
- December 2018
Biography
A South Florida native, born to Ecuadorian immigrants and based in Brooklyn, Roberto Carlos Lange's upbringing provides essential elements to his songwriting, including his consistently bilingual lyrics in English and Spanish. Exploring the expressivity within intense states of being, Latinx identity, and pluralistic sensibilities, his music under the moniker Helado Negro can be characterized as lyrically personal and political avant pop music. Through his work, Lange has cultivated an untraditional approach to songcraft that places his voice on an adventurous musical impulse without shying from familiar pop appreciation.
Lange's work as Helado Negro has crossed into costuming, dance, and sound art. In collaboration with his partner, visual artist Kristi Sword, Lange created a performance that combined these elements with costumed beings called Tinsel Mammals. Using volunteers at each performance location, the Tinsel Mammals learn quick choreography before taking the stage, allowing Lange to engage with local communities and incorporate aspects of improvisation into his shows. These ongoing performances coincided with his album Private Energy (Asthmatic Kitty / RVNG Intl., 2016), a collection of songs and sound pieces that explored his personal relationship with identity and self-love. The album received wide critical callaim from influential media outlets including The New York Times, The Guardian, Rolling Stone, and NPR. Performances of Private Energey have been produced by venues such as the Contemporary Arts Center, Cincinati, OH; Kemper Museum of Contemporary Art, Kansas City, MO; The Kitchen, New York; The Museum of Modern Art, New York; and Pérez Art Museum Miami, Miami.
While Helado Negro is in a sense a one-man band for the digital age, Lange, as a constant collaborator, has worked on projects with numerous artists including Julianna Barwick (as Ombre), Helga Davis, Tamar Ettun, Guillermo Scott Herren (of Prefuse 73), Nene Humphrey, Mouse on Mars, Sufjan Stevens, and sculptor David Ellis. Since the debut album Awe Owe (Asthmatic Kitty, 2009), Helado Negro has presented work in diverse venues from clubs to cultural organizations including Festival Centro, Bogota, Colombia; Indianapolis Museum of Art, Indianapolis, IN; Mana Contemporary Chicago, Chicago; Marguilies Collection at the Warehouse, Miami; MASS MoCA, North Adams, MA; The Museum of Modern Art, New York; Natural History Museum of Los Angeles County, Los Angeles; Ordway Center for the Performing Arts, Saint Paul, MN; Pérez Art Museum Miami, Miami; Vive Latino, Mexico City, Mexico; and the Wexner Center for the Arts, Columbus, OH. Helado Negro's new album, This is How You Smile, was released in March 2019 in conjunction with a worldwide tour.
Lange's production of Island Universe Story with the Saint Paul Chamber Orchestra received a Joyce Award in 2015. He holds a B.F.A. in Computer Art and Animation from Savannah College of Art and Design.