Rochelle Feinstein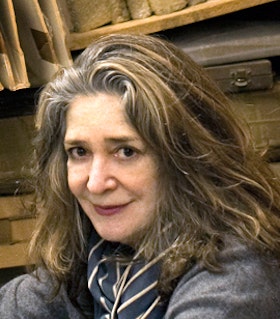 The support and acknowledgment of receiving my FCA grant was immeasurable. As is the gift of courage that artists so richly merit but so rarely receive. I send everyone, past, present, future—the board, administrators, artists, supporters—my deepest thank you.
- Rochelle Feinstein, February 4, 2015
Biography
Rochelle Feinstein is a painter, printmaker, photographer, and audiovisual artist. Since receiving her Grants to Artists award in 1999, Feinstein has had solo exhibitions of her work at On Stellar Rays, Higher Pictures, LAB Space/Art Production Fund, Momenta Art, and The Suburban. On Stellar Rays has presented multiple solo exhibitions of her work, including The Estate of Rochelle F. (2011), a retrospective in which she revised her previous works to create new pieces, The Enigma Project (2013), and Love Vibe (2014), which included works created with the support of her FCPA award. In November 2015, Black Dog Publishing will release her artist's book I'm With Her.
Feinstein's work was included in the 2014 Whitney Biennial, where she screened two videos, Recording (2002-14) and Toy George (2014). Her work has been show in group exhibitions in New York at Soloway, Fredericks & Freiser, International Print Center, Martos Gallery, Zach Feuer Gallery; and elsewhere, including Circus, Berlin; New Galerie, Paris; Blanton Museum of Art, Austin; and White Flag, St. Louis. Her work is in museum and private collections including The Museum of Modern Art and the Miami Art Museum.
Subsequent to her 1999 Grants to Artists award, Feinstein received an Anonymous Was A Woman award (2008), an American Academy of Arts and Letters Purchase Prize (2012), and a Radcliffe Institute Fellowship (2012-13). Before her 1999 FCPA grant, Feinstein received a Joan Mitchell Foundation grant (1990), a John Simon Guggenheim Memorial Foundation Fellowship (1995), and a Louis Comfort Tiffany Foundation Fellowship (1997).
Feinstein received a B.F.A. from Pratt Institute in 1975 and an M.F.A. from the University of Minnesota in 1978. She was appointed to the Faculty of Yale University School of Art in 1994 where she is a professor and Director of Graduate Studies of painting and printmaking.