Roscoe Mitchell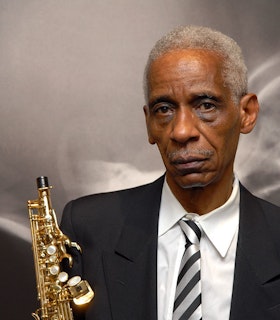 In this period of my life, time is most precious. The award gave me the time needed to write, practice, and study music.
- Roscoe Mitchell, December 31, 1997
Artist Statement
If one wants to be a good improviser, one has to know how composition works so one can execute it in real time. Therefore, it is imperative to study composition and improvisation as a parallel. Music is 50 percent sound and 50 percent silence. If one sits down and listens to nothing but silence in a very quiet place, it's very intense. So, when one interrupts that silence with a sound, one must make sure that the sound has the same intensity as the silence. When this is achieved, sound and silence start to work together opening doors to multiple choices that should always exist in good improvisation and composition. When writing a composition, one is given more time to make these selections. Improvising in real time, one must be able to make these selections spontaneously. I strive to incorporate these elements in my work and have found them to be extremely helpful.
- 2014
Biography
Roscoe Mitchell is a musician, composer, and innovator. He is a solo woodwind performer. His compositional work is concerned with resurrecting long-neglected woodwind instruments of extreme register.
Mitchell has recorded over 100 albums and has written hundreds of compositions as a solo artist and with the Art Ensemble of Chicago. His compositions range from classical to contemporary, from free jazz to orchestral music. His instrumental expertise includes the saxophone family, the recorder family, flute, piccolo, clarinet, and the transverse flute. Over the course of four decades, he has designed an elaborate percussion instrument called the "Percussion Cage." His music has been presented at venues including the University of Chicago, Institute of Contemporary Art Montreal, Zellberbach Auditorium in Berkeley, Herbst Hall in San Francisco, Centre Pompidou in Paris, World Music Institute in New York, The Knitting Factory, Alice Tully Hall at Lincoln Center, Merkin Concert Hall, and Ars Musica Festival in Brussels, among others.
In the same year as his 1996 FCPA support, Mitchell received grants from Meet the Composer (1996) and Arts Midwest Jazz Masters (1996). Prior to his 1996 Grants to Artists award, Mitchell received grants from National Endowment for the Arts (1979, 1985), Wisconsin Arts Board (1981, 1986, 1987), Minnesota Composers Forum (1986), and Madison Festival of the Lakes (1988). He also received a Certificate of Appreciation to the Art Ensemble of Chicago from the Smithsonian Institute (1979), a National Association for the Advancement of Colored People's Image Award (1982), and an Outstanding Service to Jazz Education Award (1988), among others.
Mitchell is a founding member of the Art Ensemble of Chicago, the Association for the Advancement of Creative Musicians, and the Trio Space. He is also the founder of the Creative Arts Collective, The Roscoe Mitchell Sextet, The Roscoe Mitchell Art Ensemble, The Sound Ensemble, The New Chamber Ensemble, and the Note Factory. He is the Darius Milhaud Chair at Mills College.