RoseAnne Spradlin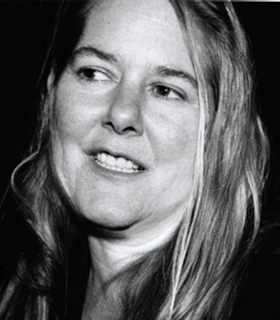 I felt very honored to be included in the company of so many outstanding artists who have won this award in the past. It is a great psychological boost for artists to feel recognized for their accomplishments and their dedication to the arts.
- RoseAnne Spradlin, January 2008
Artist Statement
My work is often described as visceral and raw. In making my work I am drawn into a realm of not knowing—where shadowy perceptions and inchoate feelings mingle and influence, eventually forming themselves into the tasks, ordeals, scenarios, and dance steps that make up my performance works. I create work because I'm seeking liberation, and because I enjoy the sense of strength I feel after going through the arduous process of creating something out of nothing.
My work probes body experience, explores sexuality and body politics, and is informed by the esthetics of task and minimalism in its use of unadorned bodies and a non-idealized movement technique. A question I've had since I saw my first dance is: how can a dance be as interesting to watch as it is to do? To confront this question I construct my work so that it resonates viscerally inside the watchers, so that they also move and are moved as they participate and attend.
- December 2014
Biography
RoseAnne Spradlin is a choreographer whose performance work reveals the individual dancer and explores idiosyncratic vocabularies in complex variations on form.
Prior to receiving her 2007 Grants to Artists award, Spradlin created works including Immunity/Desire/Last Day of Summer (1996), Ends of Mercy (1997), both performed at The Kitchen; Empathy (1999) at Danspace Project; under/world (2002) at Squid Performance Space and The Kitchen; Future Past (2005) at Dance Theater Workshop; and NOVA (2005), a site-specific work at Studio 65.
With the support of her 2007 FCA grant, Spradlin created a new work for the Barnard College Dance Department and she secured a touring date at ImPulsTanz in Vienna, where she showed her evening-length mixed-media work Survive Cycle (2006). Spradlin has also shown her work at Chisenhale Gallery in London, The Chocolate Factory, American Dance Festival, and New York Live Arts.
Subsequent to her 2007 FCA grant, Spradlin was honored with a John Simon Guggenheim Memorial Foundation Fellowship in Choreography (2007), an Artist Grant from the Doris Duke Charitable Foundation Creative Exploration Fund (2009), a Composer Commissioning grant (2013), and a Project Grant from New Music USA (2014). Spradlin was a 2012-2013 Artist-In-Residence with Movement Research and Brooklyn Arts Exchange and a 2014 Dance in Process artist with Gibney Dance Center. Before receiving her 2007 Grants to Artists award, Spradlin's work had been recognized with awards including a 2003 New York Dance and Performance "Bessie" Award for Choreography for under/world (the production won a total of five "Bessies") and the three-year Lambent Fellowship in Performing Arts in 2006-2008.
Spradlin studied closely with movement pioneer Bonnie Bainbridge Cohen from 1986 to 2001. Spradlin received a B.F.A. in Dance from Ohio University in 1983, a B.F.A. in Art from University of Oklahoma in 1975, and an M.F.A. in Art from Ohio University. In 2001, she began studying Asian medicine and movement forms, an investigation that has further deepened her focus on subtle energies, body consciousness, and the philosophy of the body in performance and dance. She has taught at the TanzImAugust Festival in Berlin, Winlab in London, SOMA in Paris, Contredanse in Brussels, and at the American Dance Festival, among others. For over twenty years, Spradlin was involved with running two different rehearsal and performance spaces in Lower Manhattan: Squid Performance Space (1995-2005) and Studio 65 on West Broadway (1990-2011).