Rubén Ortiz Torres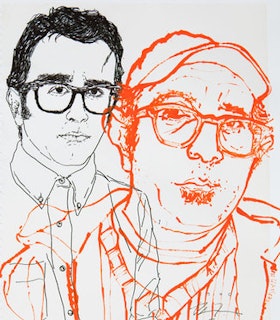 The [Foundation's] grant enabled me to produce and develop different projects at different stages. The project I was able to complete and show from beginning to end and that was funded entirely with the grant was my new photo series entitled The Adoration of the Magi. It is the first time I was able to do photography on a large scale...
- Rubén Ortiz Torres, June 16, 2002
Artist Statement
Rubén Ortiz Torres explores the social and aesthetic transformations related to cross-cultural exchange and globalization. A plurality of parallel strategies spring from the various media he explores. His work is often centered around adaptation processes in specific and widely varied contexts and the subsequent transformations that they invoke—as signs and objects that constantly change their shape and meaning. The work of Ortiz Torres includes painting, photograph, video, collage, multimedia, and commercial products that range from baseball caps to pick-up trucks, all of which question the veneration of the art object and the degradation of folk culture and the vernacular.
- 2014
Biography
Rubén Ortiz Torres is an artist whose work spans a variety of mediums. Since the early 1980s, he has produced a wide-ranging body of work and is associated with the development of a specifically Mexican form of postmodernism. Ortiz Torres's 2000 Grants to Artists award supported the development of a body of work titled The Adoration of the Magi (2000). It is a series of photographs taken in Mexico City that depicts the extravagant photography booths set up in Mexico City's Alameda Park after Christmas. Street photographers compete to create the most baroque scenes for children to take photos with the Magi. Ortiz Torres is seen with his camera in many of the images.
He has participated in several international exhibitions and film festivals. His work is now in the collections of The Museum of Modern Art; Museo Nacional Centro de Arte Reina Sofía, Madrid; The Metropolitan Museum of Art; Los Angeles County Museum of Art; Museum of Contemporary Art, Los Angeles; Artpace, San Antonio; California Museum of Photography, Riverside; and Centro Cultural de Arte Contemporaneo, Mexico City.
Prior to receiving his 2000 FCPA grant, Ortiz Torres moved to Los Angeles in 1990 on a Fulbright Foundation Scholarship. He had also received grants from the U.S.-Mexico Fund for Culture (1993), the Banff Center for the Arts (1995), the Andrea Frank Foundation (1997), and the Louis Comfort Tiffany Foundation (1999).
Ortiz Torres studied architecture at Harvard Graduate School of Design and art at the Academy of San Carlos in Mexico City. He received his M.F.A. from California Institute of the Arts in 1992. He has been on permanent faculty in the Visual Arts Department at the University of California San Diego since 2001.