Ruth Maleczech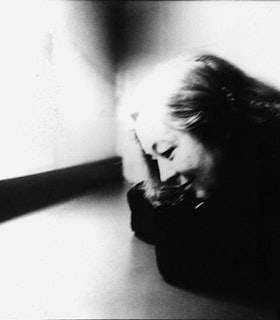 The recognition on the part of the Foundation that it is possible to create art in a city and a medium which is considered commercial encourages me and many other theater makers to continue despite the very obvious lack of fame or fortune.
- Ruth Maleczech, January 8, 2010
Artist Statement
When I am making something—either as a performer or as a director—I try to follow my nose. I attempt to throw nothing away for a long time. I let my mind get cluttered and keep things messy for as long as I can. When it comes time to make decisions about what is in and what's out I keep what I've grown to love and put the rest in a future jar in case I need some of that material after all. I am most trusting of a lack of form and a loss of control. As a performer, this surfaces as a kind of unsureness as to whether I am performing or not; often I am surprised that what I am doing elicits a response from those watching.
- December 2008
Biography
Ruth Maleczech was a performer, director, adaptor, and co-founder of the experimental theater troupe Mabou Mines. She appeared in or directed almost every one of the company's productions from 1970 until the time of her death. The radically communal company emphasized elements of art, dance, music, and movement and invited many playwrights, composers, and performers to collaborate on productions.
Maleczech's signature roles in Mabou Mines productions include Madame Curie in Dead End Kids (1980); the butcher in Kroetz'sThrough The Leaves (1984); the title role in Shakespeare's King Lear (1990); and Rose, the abused mutt in An Epidog (1995) and Ecco Porco (2002). Maleczech served as director of several works including Vanishing Pictures (1980), based on "Mystery of Marie Roget" by Edgar Allen Poe; Wrong Guys (1981), from the novel by Jim Strahs; Imagination Dead Imagine (1984) by Samuel Beckett; her own Sueños (1987); The Bribe by Terry O'Reilly (1993); her own Belén: A Book of Hours (1999), examining the plight of contemporary Mexican women; and Song For New York (2007), a feminine response to 9/11. Maleczech's 2009 Grants to Artists award supported her role as Lucia Joyce, the author's daughter in Lucia's Chapters of Coming Forth by Day (2009) by Sharon Fogarty, which toured to the Kilkenny Festival of the Arts in Ireland.
After receiving her 2009 FCA grant, Maleczech was awarded a USA Gracie Fellowship in Theater Arts by United States Artists (2010) and was inducted into the Off Broadway Hall of Fame (2014). Prior to her 2009 Grants to Artists award, Maleczech had received Obie Awards for Sustained Achievement with Mabou Mines (1968); for Design for Vanishing Pictures, which she shared with Julie Archer (1980); for Hajj by Lee Breuer (1983); for Through the Leaves by Franz Xavier Kroetz (1984); and for King Lear (1990). She has also received four Villager Downtown Theater Awards (1978, 1980, 1981, 1990), the Zeisler Award for Contributions of American Not-for-Profit Theater (1989), the Spencer Cherashore Award for Lifetime Dedication to Not-for-Profit Theater (2001), a Certificate of Outstanding Merit from the Cairo International Festival for Experimental Theatre (2006), and the Edwin Booth Award to the Artistic Directors of Mabou Mines (2007). She was supported by the New York Foundation for the Arts (1981), National Endowment for the Arts (1991), Pew Charitable Trust (1992-94), and the Fox Foundation (2000).