Ryan McNamara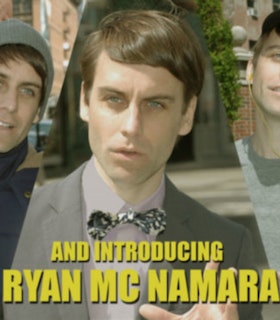 This level of activity would not have been possible without the support of the Foundation for Contemporary Art. While some of the hosting institutions covered production costs or, in rare occasions, provided an artist fee, this amount of money comes nowhere near covering my living expenses. New York is cost prohibitive for an artist, but I love this city for giving me opportunities to show my work and to see other performances that change the way I think about my art. The generosity of founder Jasper Johns and all the FCA donors not only provided me the freedom to push my practice further, but also gives me a sense of validation that comes from respected members of my field believing in me.
- Ryan McNamara, January 2012
Artist Statement
A discussion of my artistic concerns is probably best done in person. If interested, please contact me at ryan@ryanmcnamara.comso we can schedule a conversation.
- December 2010
Biography
Ryan McNamara is a Brooklyn based artist who is known for blending different practices of dance, theater, and history in his work. His works are often situation-specific, and tend to be collaborative or participatory.
In 2010, as part of MoMA PS1's Greater New York survey, the artist performed Make Ryan a Dancer, in which he took public dance lessons and practiced in spaces around the museum. After, he taught museum visitors what he learned, challenging the teacher-student/performer-spectator relationship. In an FCA-supported solo exhibition and performance, Still (2012), the audience became performers. McNamara told visitors to pose for photos in costumes and to reenact stills from performances. The photos were cut and pasted onto backdrops, costumes, and objects in the second phase of the exhibition.
McNamara has held performances and exhibitions at The Kitchen, Elizabeth Dee Gallery, The Watermill Performance Center, Barbara Gladstone Gallery, Lehmann Maupin, The Whitney Museum of American Art, MoMA PS1, Kunstmuseum Bonn, Germany; and The Museum of Modern Art. His work is in the permanent collection of The Museum of Modern Art.
Prior to his 2011 Grants to Artists, McNamara received a 2010 Art Matters Travel Grant. He received a B.F.A. from Arizona State University (2002).