Sally Silvers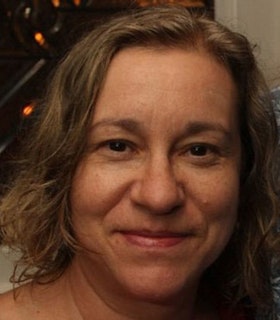 Artist Statement
The body and the exploration of movement have underpropped my work from the start.I am fascinated with the body—as a constructivist instrument of the imagination. Dig deep, constantly reconfigure, keep it raw—to look for boundaryless movement available for dance; the shapes and rhythms of the body outside of familiar genres or codified vernaculars; to get a social look at the body while taking flight on the poetry of an art form's future. The movement is often risky, vulnerable, playful, quirky, witty.
I want to produce the body anew—while acknowledging its social formation—by problematicizing the relationship we have to our bodies and what this reveals about the social world.
Whether our works explicitly address issues or not they live in a social and political context which is a partitioning that lets some expressions seem more "natural" or make easier "sense" or appear more accessible, more historically validated, researched, or fun than others. This "set up," this social construction that we make and are made of, shapes the norms of society that in turn set the standards of beauty, gender roles, entertainment and appropriate movement vocabulary for dance.By going outside the norm, I try to locate meaning in my dances as a force field for change, where challenges can try to poke through, saturated with the body material which demands that we find a place for it.
- 2014
Biography
Sally Silvers is a choreographer who has been making work since the 1980s. She has created over seventy works of dance, theater, and poetry. Silvers is Artistic Director of Sally Silvers & Dancers and has created performance projects with Bruce Andrews under the name BARKING.
Silvers choreographed and co-directed the dance films Little Lieutenant (1993) and Mechanics of the Brain (1997) with filmmaker Henry Hills. Her 2001 Grants to Artists award supported performances of her dance work Storming Heaven (2000) at The Kitchen. Since her 2001 FCPA grant, Silvers has created Strike Me Lightning (2002), Spaced Out (2003), DREAMSDOCOMETRUE (2004), Yessified! (2009), Be SOMEBODY... Be ANYBODY! (2011), Bonobo Milkshake (2012), and Actual Size (2014).
Silvers has toured internationally and nationally. Her work has been performed at venues including The Joyce Theater, Sundance Theater in Utah, Performance Space 122, Dance Theater Workshop, Danspace Project at St. Mark's Church, and Roulette. From 2005 to 2011 Silvers danced as a performer in new and historical works by Yvonne Rainer. She is also known for several large dance community curatorial projects including TalkTalkWalkWalk (2003, 2004), a festival of poetry and dance collaborations at The Bowery Poetry Project, and Surprise Every Time (2011, 2013), a festival of "live choreography" where participants made work live in front of the audience on the spot at Roulette. In 2014, Silvers premiered Actual Size at Roulette, a work inspired by Alfred Hitchcock's films, with sound design by Bruce Andrews and text by Bruce Andrews and a score by Michael Schumacher. In 2015, she showed Actual Size Plus at the Harkness Dance Festival at the 92nd Street Y, a project that was supported by an FCA Emergency Grant.
Prior to her 2001 Grants to Artists award, Silvers won a 1993 New York Dance and Performance "Bessie" Award for her work Small Room. She has received National Endowment for the Arts Grants (1987, 1989, 1990, 1991, 1998), a John Simon Guggenheim Memorial Foundation Fellowship (1988), and Meet the Composer/Choreographer Grants for work with Bruce Andrews and John Zorn (1990, 1996). Her work has been archived and recorded by the New York Public Library for the Performing Arts.
Silvers has been a guest teacher and artist-in-residence at venues and universities including New York University, Baryshnikov Arts Center, Movement Research at Judson Church, Hunter College, Swarthmore College, Sarah Lawrence College, Bennington College, Jacob's Pillow Dance Festival, American Dance Festival, European Dance Development Center, and Centro Nacional de Las Artes in Mexico City. She received her B.A. in Politics and Dance from Antioch University in 1975.