Sam Lewitt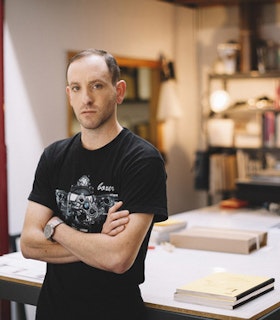 I cannot stress enough how absolutely invaluable this grant was as a kind of deus ex machina, a last minute anchor drop that enabled me to get to work... My gratitude for this grant – that a vehicle exists for artists to support one another in this way, at this level – simply cannot be overstated.
- Sam Lewitt, December 17, 2018
Artist Statement
I've always had a very slight stutter. I think this trouble with language has informed my interest in loosening certain taught processes of communication. The tendency to stammer throws seemingly natural habits of exchange into thick relief. This has led me to focus on power relations that circulate in the form of so-called "real abstractions:" abstractions that don't simply express, but effectively organize reality as a commensurable whole. Concepts of reason and nature, as much as value and money, are historical instances of such practical instruments of control. Is there such a thing as a stutter in the concept of a thing? I like to think of this as a material moment in thinking. The faltering of speech demands a practical re-organization of the way things appear to frictionlessly cede to transfer. I try and make work that does this, exactly.
- December 2017
Biography
Sam Lewitt is an artist who situates his use of various media within historically specific processes of material and symbolic exchange. His work often involves the isolation of industrial techniques and infrastructures, throwing into relief broader conditions of production in which the artwork is situated.
For Stranded Assets (2017), the artist's contribution to the 57th Venice Biennale, Venice, Italy, Lewitt arranged the loan and display of a set of decorative lamps found in the stairwell of a recently decommissioned power plant in Venice's industrial port of Marghera. Lewitt fabricated a series of reproductions of these lamps from pure compressed fuel ash that was scrubbed from power plant smoke stacks, and displayed both originals and reproductions in a section of the Venetian Arsenale in which the area's power turbines had been housed until the construction of the site in Marghera.
In More Heat than Light and Less Light Warm Words (2015-16), installed in solo exhibitions at the CCA Wattis Institute for Contemporary Arts, San Francisco and Kunsthalle Basel, Basel, Switzerland, and the Swiss Institute, New York, respectively, Lewitt engineered specially manufactured heating circuits used for the regulation of internal temperatures in environmentally sensitive media systems and redirected all available energy that flowed through the institutional lighting grids in the exhibition spaces. Fluid Employment (2012), presented at the 2012 Whitney Biennial, New York, involved a crude system of display and a corresponding pattern of labor, established around a magnetic fluid used to reduce friction in industrial manufacturing. This material, which slowly coagulates when exposed to open air, was allowed to congeal and be re-poured at two-week intervals throughout the exhibition's duration.
Lewitt's work has been included in numerous group exhibitions including A Slow Succession with Many Interruptions, San Francisco Museum of Modern Art, San Francisco (2016), and Nature after Nature, Fridericianum, Kassel, Germany (2014). With Richard Birkett, he co-organized and contributed work to the exhibition and Materials and Money and Crisis at Museum Moderner Kunst Stiftung Ludwig Wien, Vienna, Austria (2014).
Lewitt was named the Spring 2018 Cornell University Teiger Mentor in the Arts. His writing has appeared in publications such as Artforum, Collapse, CURA, Mousse, October, and Texte zur Kunst, as well as numerous edited volumes and catalogs. He holds a B.F.A. from the School of Visual Arts.