Sam Reveles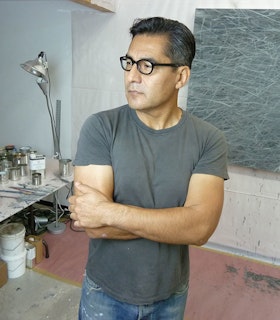 I have been very interested in Islamic art for a few years now and have taken opportunities presented to see it in museums and galleries in New York… What the grant allowed me to do was travel to see the art and architecture in situ. It provided a context through which to view and experience it as a living phenomenon. The old and the new. It's a different energy. Being alive in a different way... What the impact on my work in painting has been I cannot say exactly. I believe it is in terms of energy. The energy in my work since I took the trip to Morocco is different; difficult to put down in words because it is visual...
- Sam Reveles, April 23, 1996
Biography
Reveles is a painter who defines his approach to his work as a way "to comment on or say something about the energy of a place. And the energy being affected by many things like the quality of light, the weather, the geography… everything. It is things that are hard to specify or articulate… the feel of a place."[1]
Solo exhibitions of Reveles's work have been presented at Contemporary Arts Museum in Houston, Regen Projects in Los Angeles, the Saint Louis Art Museum, CRG Gallery, Talley Dunn Gallery in Dallas, and Lisson Gallery in London. His work has been included in group exhibitions at the Whitney Museum of American Art, Paula Cooper Gallery, Stein Gladstone, Centro de Arte Contemporaneo in Mexico City, and the Hammer Museum in Los Angeles.
His work is included in the collections of the Yale University Art Gallery, the Hammer Museum, the Saint Louis Art Museum, the Dallas Museum of Art, the Whitney Museum of American Art, and Centro de Arte Contemporaneo in Mexico City.
Subsequent to his 1996 Grants to Artists Award, Reveles received a Richard and Hinda Rosenthal Foundation Award for Painting from The American Academy of Arts and Letters (1998) and participated in the Ballinglen Arts Foundation Artist's Fellowship Program in Ireland (2010). Previous to support from his 1994 FCPA grant, Reveles was the recipient of a Ford Foundation Minority Grant (1985), and the Yale School of Art Norfolk Teaching Award (1986).
Reveles attended UCLA School of Art and Design and completed his B.F.A. in 1985 at the University of Texas at El Paso. He received his M.F.A. from Yale School of Art and Architecture in 1987.