Sarah Hennies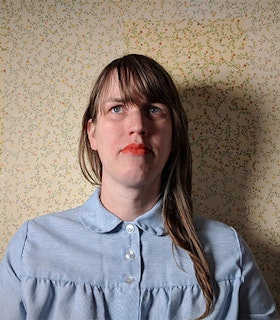 A significant portion of my time and energy in 2019 went to presenting my one-hour audiovisual work, Contralto…I also premiered several major commissioned works in 2019 including, Passing for dancers, woodwinds, and field recordings at MoMA PS1; Reservoir 1: Preservation for piano and percussion trio (commercial recording out now on Black Truffle Records); Reservoir 2: Intrusion for flautist Claire Chase; Monologue for Nate Wooley; Primers for Yarn/Wire; and most significantly, a 90-minute work for cello and percussion called The Reinvention of Romance. Beyond the financial support provided by the award, the effect it had on my confidence, reputation, and career cannot be overstated as I saw myself transition this year from 'struggling DIY artist' to an established composer/performer with ongoing opportunities.
- Sarah Hennies, December 10, 2019
Artist Statement
I am an independent artist involved with every aspect of the creation, execution, and dissemination of my work. I compose immersive solo and chamber works that explore identity, intimacy, queerness, and transness by experimenting with timbre, repetition, and endurance. In many works, the repetition of seemingly banal material reveals unusual depth and variety within sounds and the spaces in which they are heard, provoking the audience to notice and ask questions about the peculiar world we inhabit. Informed equally by Western avant-garde composers and 25 years spent in indie/punk bands, my practice occupies a unique space that exists comfortably between the worlds of academia and "underground" music.
I am transgender, and while my work often does not overtly address trans issues, it is intrinsically tied to the trans experience. My work utilizes a performance practice that, through the effort and pain of its actions, produces rich and arresting music. Similarly, by going through the joyful, life-saving process of transition, trans people open themselves to violence, discrimination, and emotional pain. Here lies the essence of both my work and trans identity: a contradiction where joy and pain serve a common purpose through a recognizable yet confounding practice.
- January 2019
Biography
Sarah Hennies is a composer whose work is concerned with a variety of musical, sociopolitical, and psychological issues including queer and trans identity, love, intimacy, psychoacoustics, and percussion. She is primarily a composer of solo and chamber works, however she is also active in improvisation, film, and dance. Her ten years of exploration of the vibraphone has resulted in a body of work that redefined the sound and capabilities of the instrument with works such as Live Fleas (2018), Sisters (2018), Settle (2012), and Gather & Release (2015).
In late 2017 Hennies premiered Contralto, a film exploring transfeminine identity that used aspects of "voice feminization" therapy as artistic material, at ISSUE Project Room in Brooklyn. Contralto featured a cast of transgender women accompanied by a dense and varied live score for string quartet and three percussionists. The work has since been performed and screened around the world at venues and festivals including Bent Frequency, Atlanta; La Sobilla, Verona, Italy; Monday Evening Concerts, Los Angeles; Museum of Contemporary Art, Tucson, AZ; Time-Based Art Festival, Portland Institute for Contemporary Art, Portland; and the Toronto International Film Festival, Toronto, Ontario, Canada.
Hennies has presented her work worldwide, with notable performances at ALICE, Copenhagen, Denmark; Café Oto, London, United Kingdom; Edition Festival, Stockholm, Sweden; Festival Cable, Nantes, France; Le Guess Who festival, Utrecht, Netherlands; O' Art Space, Milan, Italy; OBEY Convention, Halifax, Nova Scotia, Canada; and send + receive, Winnipeg, Manitoba, Canada. As a composer, she has received commissions from Bearthoven, New York; Bent Duo, New York; Cristian Alvear, Santiago, Chile; Claire Chase, New York; R. Andrew Lee, Denver; LIMINAR, Mexico City, Mexico; The Living Earth Show, San Francisco; Qubit Music, New York; The Thin Edge New Music Collective, Toronto, Ontario, Canada; Two-Way Street, Knoxville, TN; and Yarn/Wire, New York. Hennies is a member of the improvised music group Meridian with Tim Feeney and Greg Stuart; a duo with sound and performance artist Jason Zeh; and the Queer Percussion Research Group with Jerry Pergolesi, Bill Solomon, and Jennifer Torrence.
Her work has been supported by the Community Arts Partnership of Tompkins County, a Foundation for Contemporary Arts Emergency Grant, New Music USA, and the New York State Council on the Arts. In 2016 Hennies was awarded a fellowship in music/sound from the New York Foundation for the Arts. She received an M.A. in percussion from the University of California, San Diego. She is self-taught as a composer.