Sarah Michelson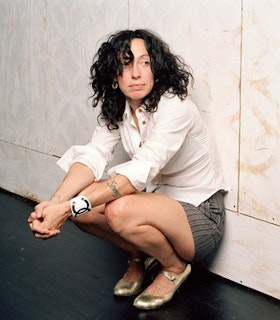 I managed in 2008 to complete the work Dover Beach in Cardiff, Wales that would have been impossible without the money from this award… There is no way I would have been able to afford this in-depth study without the FCA award… Being able to decide to use funds to develop work without any pressure on a result has meant I have made a work that I love and that I would not have otherwise made.
- Sarah Michelson, January 20, 2009
Artist Statement
What is a dance? Why would I make one? How does a dance evolve? How do performers develop according to influence? How do genre and pedagogy create folds of thinking and how do those folds divide and unite members of the dance world and affect the way dances are created? Is this a subject?
I strive for truth and beauty as a dance maker, attempting to make work that risks rejection based on its aesthetics and at its deepest structural core denies safety in favor of trying to understand through action, honestly questioning what is the very nature and value of my dance-making. I am in a deep, loving argument with myself and with my community of peers about how to honor the form of dance in our time.
As a maker I seek both an unbridled experience in the theater and a deepening relationship to the emotional mathematics of form both on the stage and in our culture. I am also dedicated to working with youth, especially girls.
Serving the dance community for about a decade as a curator (now at The Kitchen) continues to be a deeply symbiotic relationship with making dances.
- December 2007
Biography
Choreographer and performer Sarah Michelson has been making work since the early 1990s. Her works integrate movement, architectural space, sound, and the natural environment. She is interested in understanding how performers are influenced and how the aesthetics of dance change in specific historical and cultural contexts.
Michelson's 2008 Grants to Artists award supported her work Dover Beach (2009), which involved working with three eleven-year-old girls from Cardiff, Wales. She sought to create lead roles for the girls without addressing their age. The New York premiere of the work was held at The Kitchen in 2012. Michelson's work has also been performed in the United States at venues including Performance Space 122, On The Boards, Danspace Project at St. Mark's Church, and Movement Research at Judson Church. Her work has been presented internationally at Die Pratze Dance Festival, Tokyo; La Porta, Barcelona; and Chisenhale Dance Space, London. Her work has been commissioned by the Lyon Opera Ballet, Walker Art Center, and the Next Wave Festival at Brooklyn Academy of Music.
Subsequent to receiving her 2008 FCA grant, Michelson was honored with a John Simon Guggenheim Memorial Foundation Fellowship (2009), a Whitney Biennial Bucksbaum Award for her work Devotion, Study #1 (2012), and a Doris Duke Performing Artist Award in Dance (2012). Her work has been supported by National Performance Network (2010), Rockefeller MAP Fund (2010), and New England Foundation for the Arts (2013); she has been a Resident Artist at On the Boards, Montclair State University, and Walker Art Center. Prior to her 2008 Grants to Artists award, Michelson had won three New York Dance and Performance "Bessie" Awards for Group Experience (2002), Shadowmann Parts One and Two (2003), and Dogs (2008).
Michelson received a B.A. in Literature from London University in 1984, a Performance Diploma from Trinity Laban in 1985, and an M.F.A. from Mills College in 1991. She has served as Associate Director of Movement Research, editor of Performance Journal, and as Associate Curator of Performance at The Kitchen.