Simone Leigh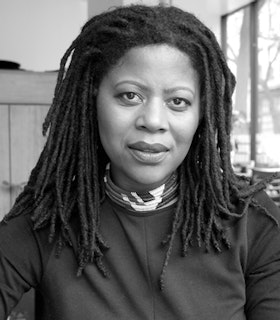 Because of [FCA's] support, none of [my upcoming exhibitions] have delayed my goal of building a studio in Philadelphia that can support my work in sculpture. For years I have been compromised and unable to make the work of my dreams. I am limited both by the size of the studio and the size of the kiln for objects I want to manufacture... Hopefully I will break ground on the studio this year.
- Simone Leigh, January 18, 2019
Artist Statement
I came to my artistic practice via the study of philosophy, cultural studies, and a strong interest in African and African American art, which has imbued my object and performance-based work with a concern for the ethnographic, especially the way it records and describes objects. This has led me, more recently, to a study of the vernacular architectures of west and southern Africa—styles, technologies, and forms that have been appropriated by Western art, architecture, and design—as a means of disrupting our understanding of the linearism, geography, and genesis of Modernism. As an artist, African art and vernacular objects are a means of exploring a multitude of themes, particularly the notion of women's work, authorship, anonymity, and other ways in which we perceive culture and value. My sculptural concerns have evolved to include a vocabulary of objects, where I consider how meaning might be transferred onto an object.
- December 2017
Biography
Simone Leigh's diverse practice incorporates sculpture, video, and installation, all informed by her ongoing exploration of black female subjectivity and ethnography. Her objects often employ materials and forms traditionally associated with African art, and her performance-influenced installations create spaces where historical precedent and self-determination co-mingle. Through her investigation of visual overlaps between cultures, time periods, and geographies, she confronts and examines ideas of the female body, race, beauty, and community.
Though Leigh considers herself to be primarily a sculptor, she recently has been involved in social sculpture, or social practice work that engages the public directly. For the Creative Time supported exhibition Funk, God, Jazz, and Medicine: Black Radical Brooklyn (2014), Leigh installed a free clinic in Brooklyn called the Free People's Medical Clinic, a reenactment of the Black Panther Party's initiative of the same name. Leigh revisited the idea of the free clinic in her exhibition The Waiting Room at the New Museum, New York (2016), in which she shifted the subject from medicine and medical apartheid to focus more squarely on forms of knowledge and ritual that offer healing and support self-defense. On the days the museum was closed to the public, Leigh conducted Home Economics, a project in which twenty teenage girls received weekly instruction in herbal medicine, Taiko drumming, and dance. During her four-day exhibition Psychic Friends Network (2016) at Tate Exchange at the Tate Modern, London, Leigh collaborated with a number of other artists, including Lorraine O'Grady and choreographer/performer Rashida Bumbray, to extend the ideas around medicine to include communication with one's ancestors. Leigh's other projects and exhibitions include Trigger: Gender as a Tool and as a Weapon at the New Museum, New York (2017); inHarlem, a public installation presented in Marcus Garvey Park by The Studio Museum in Harlem, New York (2017); and a solo exhibition at the Hammer Museum, Los Angeles (2016-17).
During her residency at the New Museum, Leigh founded an organization called Black Women Artists for Black Lives Matter (BWAforBLM), a collective formed in direct response to the murder of Philando Castille, and in protest against other similar injustices against black lives. On September 1st, 2017, the members of BWAforBLM, including Leigh, occupied the New Museum's Lobby, Facade, 5th and 7th Floors, and Theater for four hours, engaging in dialogue, healing workshops, and performances. Leigh has since curated a round at Project Row Houses in Houston's Third Ward, where BWAforBLM was the artist exhibited across all seven art houses of the organization.
Leigh is a recipient of The Studio Museum in Harlem's Joyce Alexander Wein Artist Prize (2017); John Simon Guggenheim Memorial Foundation Fellowship (2016); Anonymous Was a Woman Award (2016); Herb Alpert Award in the Arts (2016); and A Blade of Grass Fellowship for Socially Engaged Art (2016). She holds a B.A. from Earlham College.