Simone White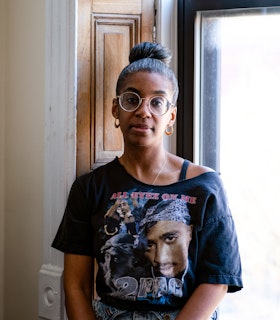 Artist Statement
The main thing is staying alert to what is circulating in the world as knowledge and expression, so I can describe the contemporary situation and a certain set of reactions to it that come under the name of blackness and the feminine. This effort has required me to try to understand some of the structural and discursive conditions that make understanding possible at any given moment. It is a forest/trees balancing act that, in terms of practice, has involved being able to switch forms or genres pretty fluidly. I feel like I've been doing the same thing since I first started writing about rap music in 1992—feeling my way through black expressive culture and the forms of life black expressions propose. I try to write criticism that carries these same feelings across multiple archives insofar as sometimes they work like art and sometimes they work like commentary about art and the nature of things. I want the material that is my work to be as reactive as possible in the hope that it will work like all matter works. Thus, it must be made so carefully/my teachers use the term "poethics."
- December 2022
Biography
Simone White is a poet, critic, and teacher. Her work takes the poem as a form for black thought and a foundation for a subaltern practice of art criticism and theory. White's writing is compelled by endless interest in what can only be demonstrated by black imagination.
She is the author of or, on being the other woman (Duke University Press, 2022), a book-length poem that weaves together poetry, essay, personal narrative, and critical theory, attesting to the narrative complexities of writing and living as a black woman and artist. The performance component of this project places the poem in the sonic context from which it emerged, reflecting White's engagement with contemporary rap music, especially trap and drill. Highly structured/improvised performances become opportunities for collaborative genre experiments, often incorporating material from her critical work-in-progress Warring, where White theorizes the problems for poetry and black studies that trap and drill music suggest.
White's other works are Dear Angel of Death (Ugly Duckling Presse, 2018); Of Being Dispersed (Futurepoem, 2016); House Envy of All the World (Factory School, 2010); the poetry chapbook, Unrest (Ugly Duckling Presse, 2013); and the collaborative poem/painting chapbook, Dolly (with Kim Thomas) (Q Avenue Press, 2008). White's writing on art and music has appeared in e-flux, Artforum, and Frieze; in exhibition catalogues for the 2022 Whitney Biennial and Illiberal Arts at Haus der Kulturen der Welt (b_books, 2021); and in the anthology of music writing by women, This Woman's Work (White Rabbit, 2022).
White is the recipient of a Creative Capital Award (2021), a Whiting Award in Poetry (2017), and fellowships from Cave Canem Foundation (2007, 2003). 
A graduate of Wesleyan University, she holds a J.D. from Harvard Law School, an M.F.A. from The New School, and a Ph.D. from CUNY Graduate Center. From 2014 to 2018, White worked at The Poetry Project, where she curated public programming. She is the Stephen M. Gorn Family Assistant Professor in English at the University of Pennsylvania and serves on the writing faculty of the Milton Avery Graduate School of the Arts at Bard College. A Philadelphia native, White lives in Bedford-Stuyvesant, Brooklyn, with her son.