Sinan Savaskan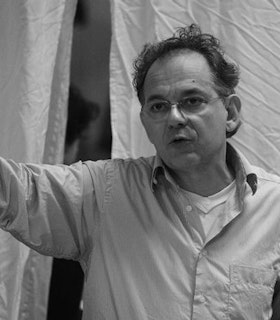 Artist Statement
Since the early 1980s, my music has brought together two previously unrelated strands of activities and concerns: an interest in high levels of organization and a seemingly contradictory commitment to total spontaneity.
Features of my earlier structured notated compositions, and past work as an improvising musician, are now combined in a constructivist context based on a personal compositional method of tonal/formal logistics, the Method of Convergent Harmony. It is a compositional concept with related technical procedures—tonal, contrapuntal, harmonic, temporal, timbral, melodic, and formal elements—which are organically proportioned and integrated in accordance with their inherent circular functions.
- 1999
Biography
Sinan Savaskan is a composer and conductor of contemporary, orchestral and chamber music. He employs a method of structuring his works through pitch-time, which he has developed throughout his career.
Savaskan's works include Anthems for the Sun no. 3 (1994), Symphony No. 2 'The Age of Analysis' (1997), Panic in Needle Park (1988), Symphony No. 3 'La Rosa Enflorece and the English Cadence' (1998),The Land of Three Fires (1999), and Unique Strands (2000). He was the Musical Director for a film on the life of Carlo Gesualdo directed by Bernardo Bertolucci. In 2004, Savaskan was the Music Director and Composer for Oedipus Rex at the University of Cambridge. Savaskan has been commissioned by the British Broadcasting Corporation Symphony Orchestra, the John Harle and Myrha Saxophone Quartet, Lontano Ensemble, SEM Orchestra/Petr Kotik, Balanescu String Quartet, Gemini Ensemble, Smith Quartet, Sydney Alpha Ensemble, MusICA series at the Institute of Contemporary Arts in London, and the Cambridge New Music Players.
Prior to his 1998 FCPA grant, Savaskan received the Arts Council of Great Britain Dio Fund Award in 1988. He has served as a Composer-in-Residence with the Octandre Ensemble.
Savaskan recieved a B.A. with Honors from Middlesex University, London, an M.M. from the University of Surrey, and a Ph.D. from the University of York. He studied with Cornelius Cardew, Reginald Smith Brindle, Robin Maconie, and Roger Marsh. Savaskan was a founding member of the London Musicians Collective, and has served on the executive committee of the British Academy of Songwriters, Composers, and Authors. He is the Head of Academic Music at Westminster School in London.