SITE SANTA FE: Dakota Mace exhibition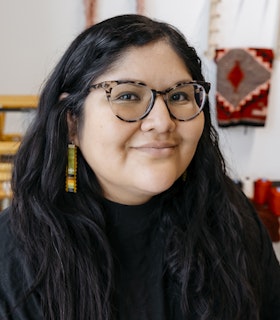 Artist Biography
Dakota Mace (b.1991) is an interdisciplinary artist whose work explores family lineage, community, and identity, with a focus on translating the language of Diné (Navajo) history and beliefs. Her work asks viewers to reconsider their understanding of Diné culture through unexpected and innovative approaches to photographic techniques, weaving, beadwork, and papermaking. 
The artist's practice is intrinsically rooted in place and documents her interactions with the land, materials, and people in her creative process. She received her MA and MFA degrees in Photography and Textile Design at the University of Wisconsin-Madison, and her BFA in Photography from the Institute of American Indian Art
Mace has worked with numerous institutions and programs to develop approaches that address cultural appropriation and elevate the importance of Indigenous design work. She is an MFA in Studio Arts Faculty at the Institute of American Indian Arts, Santa Fe, a Visiting Grad Advisor at the School of the Art Institute of Chicago, as well as the photographer for Helen Louise Allen Textile Center and the Center of Design and Material Culture (Madison, WI). Her work as an artist and scholar has been exhibited at various conferences, museums, and galleries, such as the Ralph T. Coe Center for the Arts, Santa Fe, and The Wallach Art Gallery at Columbia University. She is represented by Bruce Silverstein Gallery in New York, NY.
About the Exhibition
In March 2025, SITE SANTA FE in New Mexico will present DAHODIYINII – SACRED PLACES, a solo exhibition of the work of Dakota Mace. The Ellsworth Kelly Award will support this exhibition, organized by SITE SANTA FE Curator Brandee Caoba. 
Mace's ambitious exhibition will include over 2,000 newly-commissioned chemigrams and photographic prints made using crimson cochineal dye—a naturally-occurring dye made of insects native to Diné land and the Southwest United States. These suites of chemigrams and archival photographic prints will be accompanied by site-specific installations of video, audio, and performance that document Mace's creative process. The exhibition will realize an unparalleled exploration of Diné culture, design, and heritage, foregrounded by Mace's conversations with the land and connection to place.
Dakota Mace has been exploring compelling narratives throughout her body of work for over 10 years, and her work has been featured in several solo exhibitions in the Southwest and Midwest. "Dakota Mace's powerful visual language sheds light on the complexities of Indigenous histories, and positions Land and Body as an archive of memory and narrative," said Caoba. "Her upcoming exhibition, DAHODIYINII – SACRED PLACES, marks a pivotal moment in Mace's career. It provides a platform for her to garner national recognition for her contributions to contemporary art and expands perspectives and representation of contemporary Indigenous artists."
Founded in 1995 to establish the first international contemporary art biennial in the United States, SITE SANTA FE is a non-collecting art institution committed to supporting new developments in contemporary art, encouraging artistic exploration, and expanding traditional museum experiences. SITE SANTA FE presents a wide range of public and educational programs that include conversations with artists and curators, performances, film screenings, concerts, hands-on workshops, and collaborations with dozens of local schools and community organizations.