Stacy Szymaszek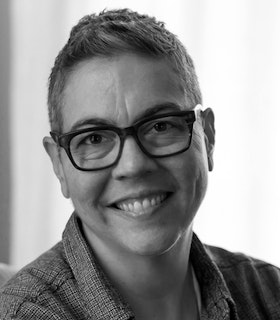 It is my dream come true to be able to write as an autonomous poet, free from running an organization or answering to anyone else's schedule. It is so rare that a poet makes a living from poetry. These past eight months I have been a poet. I wrote a book and I read many. I went deeper than I had been able to in my other books because I had the time to do so. Thanks to the FCA award, I basically formed my own residency away from the busy poetry community I know and love in NYC. I made a different kind of life, solitary by comparison, in the Southwest that allowed me to create very different work.
- Stacy Szymaszek, December 17, 2019
Artist Statement
I like to write books that are poems. Devoted to the long poem written with a time constraint, usually a year, but sometimes a season, or the time it takes to grieve. I make work that traverses a many-layered urban terrain—social, political, poetic, animal—wanting to create a form rawer than a diary, weightier than a series of sketches, more idiosyncratic and implicated than a conceptual program. My obsessions feel tender spread out over time, manifesting in the right word next to the right word, in "a certain slant of sunlight" and so on. I believe the process of aestheticizing experience can be a route to deeper self-knowledge and transformation for myself and readers. Let's spend our seemingly accidental days detecting, minute by minute and phrase by phrase, an overarching aesthetic and moral design. I write for the kind of grown-up who is willing to say, "don't/look for/who's really in charge c'est moi."
- December 2018
Biography
Stacy Szymaszek is a poet, arts administrator and organizer, and professor. Following along the trajectory of her last three books, her writing is a growing compendium of days that seeks to demystify the poet and mystify the mundane.
Her published works include A Year From Today (Nightboat Books, 2018); Journal of Ugly Sites and Other Journals (Fence Books, 2016), which won the Ottoline Prize from Fence Books and was nominated for a Lambda Literary Award; hart island (Nightboat Books, 2015); Hyperglossia (Litmus Press, 2009); Emptied of All Ships (Litmus Press, 2005); as well as many chapbooks.
Szymaszek received a New York Foundation for the Arts Fellowship in Poetry in 2014. She is a regular teacher for Naropa University's Summer Writing Program, and a three-time mentor for Queer Art Mentorship. Szymaszek was resident poet at Brown University (2018), and Visiting Hugo Writer at the University of Montana, Missoula (2018-2019).
Szymaszek started learning the ropes of nonprofit arts administration and small press poetry at Woodland Pattern Book Center in Milwaukee in 1999. In 2005 she moved to New York City to work for The Poetry Project at St. Mark's Church, where she served as Executive Director from 2007-2018. She serves on the board of directors of Wendy's Subway, a non-profit reading room, writing space, and independent publisher located in Bushwick, Brooklyn. She holds a B.A. from the University of Wisconsin, Milwaukee.