Steffan "Mr. Wiggles" Clemente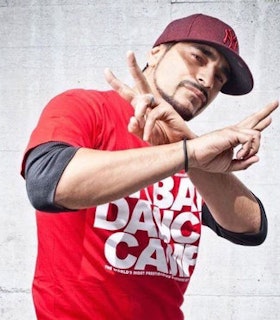 [The Grants to Artists award] has helped my dance company Ghettoriginal and myself become musically self-sufficient. I invested $15,000 in building a mini studio in my home. Since then, our sound quality has been upgraded…
- Steffan "Mr. Wiggles" Clemente, March 22, 1995
Biography
Steffan "Mr. Wiggles" Clemente is a dancer, actor, choreographer, teacher, music producer, and graffiti artist. He is a member of breakdance crews and hip-hop groups Rock Steady Crew and The Electric Boogaloos.
Since his early days dancing in the streets of the Bronx, Mr. Wiggles has worked in theater, film, and music with artists such as Graciele Danielle, Savion Glover, Bill Irwin, Lynne Taylor Corbett, and Anne Marie D'Angelo. He was commissioned to produce a song for September Songs, a 1997 tribute album to Kurt Weill, alongside other musicians Elvis Costello, Iggy Pop, and Betty Carter. He has been a featured artist at the Apollo Theater and performed at the Kennedy Center. He has appeared in music videos with artists such as Missy Elliot, Usher, Madonna, and Limp Bizkit, among others.
Subsequent to receiving his 1993 Grants to Artists award, Mr. Wiggles was nominated for a 1995 Drama Desk Award for his Ghettoriginal production of Jam on the Groove. He was among the members of the Rock Steady Crew honored at the first "VH1 Hip-Hop Honors" in 2004. Before his FCPA grant, Mr. Wiggles was nominated for a Tony Award for Best Choreography for the show Largely New York in 1989. Mr. Wiggles and the Rock Steady Crew collectively won a New York Dance and Performance "Bessie" Award for Best Choreography for the theatrical production of So What Happens Now (1992).
Mr. Wiggles tours as a solo artist and with The Electric Boogaloos and Rock Steady Crew. He has served as a guest teacher at dance studios throughout New York and was one of the first to teach hip hop dance at New York's Broadway Dance Center. He distributes his music, dance videos, and clothing wear through his website. Mr. Wiggles also participates in outreach programs teaching youth about hip-hop culture.