Stephen Petronio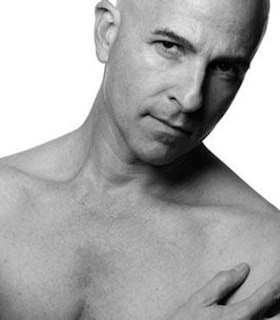 Artist Statement
I believe in the power of movement and the rigorous process of welding ideas into original physical worlds. I believe in the power of those worlds to provoke a deeply felt response that moves far beyond our intellectual and rational selves. The Stephen Petronio Company was formed in pursuit of an idiosyncratic language, articulate and exacting in detail. Thirty years later, Petronio-speak is now firmly established.
My language is a continuum of motion predicated on the conscious direction of energy throughout the body and out into space. The spine undulates, twisting and torqueing—head and limbs whip through space extending out into arcs of enlivened calligraphy.
Parallel to this focus is an adamant belief in the importance of interdisciplinary collaboration. Dance can speak with candor and invention of a cultural moment most sublimely in tandem with other artistic disciplines—contemporary music, visual arts, fashion. I am inspired by the artists from these disciplines in an immediate way when we are face-to-face (and often head-to-head). We prod each other into new discovery.
My artistic concerns shift constantly, but the following run through my investigations with a modicum of regularity: multiple states of consciousness in the body, physical play, the accidental discovery that defies logic and the tools that facilitate these "accidents," rapidly shifting architectural structures, the relationship between order and chaos, issues of power and control, communal structures for behaving and how groups create through a learned set of rules, hybrid constructions of gender and sexuality, relationship to pop culture, and the expansion of multigenerational and multidisciplinary collaborators.
I believe that the role of dance, as a primary art, can be revealed for its enhanced worth. The value of this non-material stock is rising and dance has an opportunity to re-focus its role as a beacon of inspiration, provocation, and hope.
- 2014
Biography
Stephen Petronio is a choreographer, dancer, and the Artistic Director of the Stephen Petronio Company. Petronio was the first male dancer of the Trisha Brown Company and he was also influenced by working with Steve Paxton.
With support from his 1999 FCPA grant, Petronio premiered the full evening suite of his Strange Attractors at The Joyce Theater in 2000. Petronio has created over thirty-five works for his company and has been commissioned by international modern and ballet companies, including William Forsythe's Ballett Frankfurt, Lyon Opera Ballet, Sydney Dance Company, and National Dance Company Wales. Petronio collaborates regularly with visual artists, musicians, and fashion designers, including Cindy Sherman, Janine Antoni, Antony and the Johnsons, Nico Muhly, Imitation of Christ, and Narciso Rodriguez. In July 2014, Petronio performed the world premiere of his solo Big Daddy at the American Dance Festival, which features text from his memoir, Confessions of a Motion Addict (2014).
Alongside developing his own work, in recent years, Petronio performed Trisha Brown's Man Walking Down the Side of a Building at the 2010 Whitney Biennial. In 2012 he performed his rendition of Steve Paxton's Intravenous Lecture at The Joyce Theater, Reed College, and the TEDMED-2012 conference at the Kennedy Center Opera House. He collaborates with visual artist Janine Antoni on discipline-blurring projects, such as the video installation Honey Baby (2014), created with composer Tom Laurie and filmmaker Kirsten Johnson.
Since receiving his 1999 Grants to Artists award, Petronio received a New York Foundation for the Arts award in 2004, was named the first Artist-in-Residence at The Joyce Theater in October 2012, and he received a Doris Duke Artist Award in 2015. Prior to his FCPA grant, he had received an award from the New York Foundation for the Arts (1985), a New York Dance and Performance "Bessie" Award for his work Walk-In (1986), an American Choreographer Award (1987), and a John Simon Guggenheim Foundation Fellowship (1988).
Petronio received a B.A. from Hampshire College in Amherst, M.A., where he began his early training in improvisation and dance technique.