Steve Roden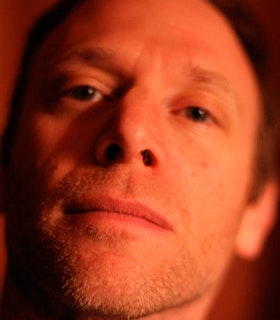 The grant money allowed [my work] to move at its own pace, and most importantly, to include experimentation and failure without anxiety, towards the creation of a film that not only has a greater level of production, but the experimentation allowed me to incorporate a visual language into the work that I had previously been unable to work with.
- Steve Roden, January 2012
Artist Statement
I work with painting, drawing, sculpture, film/video, text, sound and performance—generally exploring ideas related to translation, abstraction, systems, notation and scores.
My working process generally includes the translation of various forms of specific notation (words, musical scores, maps, etc.) into scores, which influence the process of making/composing a painting, drawing, sculpture, or sound composition. The scores, rigid in terms of their structure, are also full of holes—allowing for intuitive actions, mistakes, and potential left turns. Other than its relationship to an inspirational source, I seldom know how an artwork will speak until it is finished.
My practice is still rooted in the principals I learned in the fourth grade when an art teacher, Mr. Johnstone, told me to fix the sky in the background of a watercolor project. I told him I liked it as it was and wanted to leave it. He told me if I fixed it to his liking he would give me an A, and if not he would give me a C. I kept the sky the way I wanted and took the C. To this day, I still believe that a C with meaning is much more valuable than an A through compromise. The watercolor is hanging in my studio.
- December 2010
Biography
Steve Roden was a visual and sound artist whose work includes painting, drawing, sculpture, film/video, sound installation, text and performance. With the support of his Grants to Artists grant, Roden completed seven large paintings and a film in his stone's throw series (2010-11).
Roden exhibited his visual works in solo and group exhibitions nationally and internationally at The Kitchen, the Museum of Contemporary Art, San Diego; the Hammer Museum, Los Angeles; Mercosur Biennial, Brazil; Centre Georges Pompidou, Paris; and the National Museum of Contemporary Art, Athens. In 2010 Steve Roden: in between, a 20 year survey, was exhibited at The Armory Center for the Arts, Pasadena. His artwork is in the permanent collections of the Los Angeles County Museum of Art, Henry Art Gallery, Seattle; the Blanton Museum of Art, Austin, Texas; Palm Springs Art Museum, California; and Pomona College Museum of Art, Claremont, California.
Roden performed his sound work at art spaces and experimental music festivals worldwide including the Serpentine Gallery, London; the San Francisco Museum of Modern Art, Walker Art Center, Minneapolis; Chinati Foundation, Marfa, Texas; and toured in Brazil and Japan. Roden also released numerous CDs under his own name and the moniker "In Be Tween Noise" on various record labels internationally.
Prior to his 2011 Grants to Artists, Roden received a Durfee Foundation Grant (2001), a California Arts Council Grant in Visual Arts (2003), and a California Community Foundation/Getty Foundation mid-career artist fellowship grant (2008).
Roden received his B.F.A. from Otis Parsons College of Art and Design, Los Angeles (1986), and his M.F.A. from the Art Center College of Design, Pasadena, California (1989). He taught graduate and undergraduate courses at numerous Southern California institutions and both lectured and was a visiting artist at universities across the U.S.