Stuart Hawkins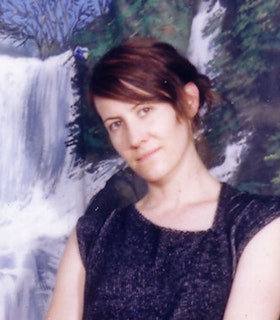 I am much appreciative of the support the grant lent me as it enabled me to financially and creatively move at a faster rate and realize a project that would have otherwise taken much longer.
- Stuart Hawkins, March 27, 2006
Artist Statement
I am a New York-based artist who has lived and worked in Nepal for many years. Utilizing photography and video, my work documents and ironizes the ubiquity of American, media culture. As my subjects pose for the camera in a self-staged manner, they embrace and imitate themes from popular culture. Revealing the pervasiveness of globalization, my work asks the viewer to consider themselves in the visual dialogue that comprises consumer culture.
- 2006
Biography
Stuart Hawkins utilizes partially staged photographs and videos to document and ironically mimic media culture. Working with friends in Nepal, where she periodically lives and works, Hawkins engages the image of the Western tourist abroad. Her videos often mimic the format of infomercials or sitcoms, matching their bizarre humor with a critique of globalized lifestyle ideals. In her recent work, Hawkins increasingly references both art's role as a luxury commodity and its traditions of modernist design aesthetics.
Prior to receiving her 2004 Grants to Artists award, Hawkins' work had been the subject of solo exhibitions at Artists Space, LFL Gallery, Priska Juschka Fine Arts, and Peres Projects in San Francisco. Her 2004 FCA grant supported her solo exhibition Customs at Zach Feuer Gallery in 2006. She is now represented by Zach Feuer Gallery. Her work has been included in group exhibitions and screenings at Rubin Museum of Art, Powerhouse Arena, International Center for Photography, Brooklyn Academy of Music, Anthology Film Archives, and New York Film and Video Festival at Lincoln Center.
Prior to her 2004 Grants to Artists award, Hawkins had been recognized with an American Institute of Photography Fellowship (1996), a Rema Hort Mann Art Grant (1999), and an Aaron Siskind Individual Photographer's Fellowship grant (2001).
Hawkins graduated from the University of Vermont in 1992 and received her M.F.A. from School of Visual Arts in 1996. From 2013 to 2014, Hawkins was the Lower Manhattan Cultural Council's Workspace On-Site Assistant.