Susan Rethorst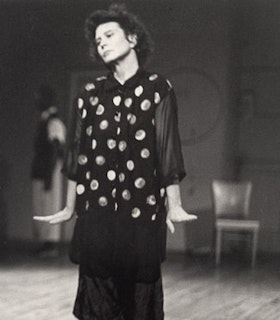 Artist Statement
In the last few years I have come across the following words that I find useful in attempting to articulate what I do—
quiddity—the essence of a person or thing; what makes a thing what it is... what makes a movement what it is
qualia—the ineffable in experience, that for which there is no substitution, for which description will always fall short, that which can only be known through experience, (i.e. the smell of thyme, that twirly arm thingey movement done by that person in that place at that moment in the dance)
inwit—from old english; in from interior, wit from knowledge
----------------------------------------------------------------------------------------------------------
I believe dance acts on us. I am interested in working with how and why it acts on us; its effect/affect.
The ways I work are immediate and intuitive, collaborating with circumstances, trusting my ideas and self to manifest through the choices I make.
I ask myself in the studio what is this movement doing? How is it acting on me? Where does it take me, leave me? What does it dictate about what else there should be? What is it, its nature? What does it bring to my conscious self and how? How is it that it lays bare who I am, what I think, what I know?
In my work, I rely on these ineffable dimensions of movement; the extraordinary phenomenon that we study every day as we decide who to talk to, where to sit on the bus, and what we think; we read every situation through movement. To make performance out of this aspect of our nature, this phenomena, is what fascinates me.
- 2005
Biography
Susan Rethorst is a choreographer, writer, and teacher who been making works of modern dance since 1975. She has been active as a choreographer and teacher of choreography throughout Europe and Scandinavia since 1995.
Rethorst's works include Long Sleepless Afternoons (1979), Sons of Famous Men (1985), Beau Regard (1989), Picture This (1992), and Behold Bold Sam Dog (2001). After receiving her 2003 Grants to Artists award, Rethorst created the 208 East Broadway series, which includes works made in her living room from 2007 to 2013. In 2011, Danspace Project at St. Marks's Church presented Susan Rethorst: Retro(intro)spective. For this project, Rethorst was in-residence for four weeks and moved her furniture to the church to continue work on 208 East Broadway.
Rethorst's work has been presented by The Museum of Modern Art, The Kitchen, Dance Theater Workshop, Danspace Project at St. Mark's Church, and the Whitney Museum Of American Art, as well as at various dance theaters, universities, and festivals throughout the United States. Her work has been produced internationally by The Holland Festival, Spazio Zero Rome, The Kunsthalle Basel, Aix-en-Provence Festival, Jerusalem's Room Festival, among others.
A documentary of her teaching methods and philosophy is in production as of 2015 at La Caldera in Barcelona. She has published articles on her choreographic thinking in Movement Research Journal and Choreographic Encounters and her book A Choreographic Mind: Autobodygraphical Writings was published in 2012 by The Theater Academy of Helsinki.
Since her 2003 Grants to Artists award, Rethorst received her second New York Dance and Performance "Bessie" Award for 208 East Broadway: Suitcase Dreams in 2008. She also received the Alpert Award in 2010 and a Doris Duke Performing Artist Award in 2015. Prior to her 2003 FCPA grant, Rethorst was the recipient of National Endowment for the Arts Grants (1979-1989, 1992-1995) and support from the New York State Council on the Arts (1979-1983), the New York Foundation for the Arts (1989, 1993), the Ernie Pagnano Memorial Fund (1991), the Joyce Mertz Gilmore Foundation (1992), and a John Simon Guggenheim Memorial Foundation Fellowship (1999). More, Rethorst was among the first to receive a New York Dance and Performance "Bessie" Award for Outstanding Achievement in 1985.
Rethorst studied dance with Judith Dunn at Bennington College and graduated in 1974. She has developed B.A. and post-graduate programs in Copenhagen, Cork, Salzburg and Amsterdam. In 2001, she initiated, along with three others, a Master's program for the Amsterdam School of the Arts. In 2005, she started a summer program devoted to the study of choreography in Pennsylvania titled Studio Upson in Pennsylvania (SUPA), now moved to the Center for Performance Research in Brooklyn. In addition, she has led workshops and seminars on choreography in Helsinki, Barcelona, Jerusalem, among others; guest taught at Bennington College, Ohio State University, Bard College, New York University, and Barnard College, among others; and workshops on a choreographic approach to media in London and Amsterdam.