Takehisa Kosugi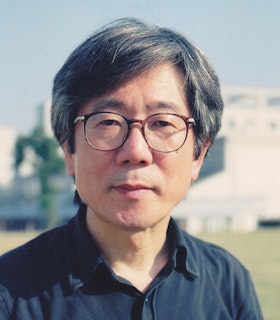 Artist Statement
The incidental or indeterminate nature of sounds has been one of the major characteristics of my music through improvisational performances and sound installations. In an attempt to transcend conventional musical concepts, I have been introducing electronic territory to my music including both audio frequency waves and non-audio frequency ones such as infrasonic, radio frequency, and light waves.
- 2014
Biography
Takehisa Kosugi was a composer, performer, and artist who produced and presented musical and visual works since the 1960s. His improvisational performance and sound installations use daily materials and technology to realize the multiplicity of sounds in space. An early piece, Catch Wave (1967), used a radio frequency transmitter and receiver for electro-magnetic interference to produce sound when the transmitter was set close to the radio receiver and adjusted to a certain wave frequency. The spatial movements of the transmitter and/or receiver produced music. Another audio-visual piece, Op Music (2001), converted light to sound and sound to light. His 2008 installation at the Yokohama Trienniale also used light/sound conversions to reveal the dual phenomena of the eyes and the ears in an electronic atmosphere.
Kosugi has performed his work at international venues and festivals such as Museum of Contemporary Art in Toyko, Edinburgh International Festival, Royal Albert Hall, The Getty Center, Miami Subtropics Experimental Music and Sound Arts Festival, Kushiro Art Museum, Lincoln Center Festival, and Biennale d'Art Contemporaine de Lyon. Sound installations of his work have been exhibited at Raven Row, Deutzer Brücke, the Mori Art Museum, the Venice Biennale, and the Aichi Prefectural Museum of Art, among others.
Kosugi is the co-founder of Group Ongaku, a Tokyo-based group founded in 1960 for collective improvisation, and Taj Mahal Travellers, a Toyko-based band founded in 1969 for mixed-media music improvisation. In 1977 he began composing and performing for the Merce Cunningham Dance Company and served as Musical Director from 1995 until the company closed in 2011. He received his B.A. in Musicology from Tokyo National University of Fine Arts and Music.