Tamy Ben-Tor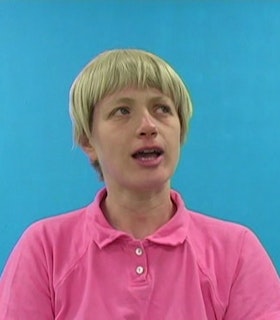 I am very grateful to have had the freedom to work solely on my new work and not worry about other income this year. It allowed me to dive deep into the creative process, which is a big privilege.
- Tamy Ben-Tor, December 25, 2008
Artist Statement
My consciousness is a sponge absorbing all of contemporary filth.
The artistic process for me, in the form of a performance, is to solidify this
sponge into a hard stamp tool and press it back onto the audience's
consciousness for the duration of the performance.
At the end, I hope they come out of it stained, impressed, as I am, by the
ailments of this time which we live in.
- December 2014
Biography
Tamy Ben-Tor is a video and performance artist whose works feature her playing various characters that she invents. She often utilizes simple costume items or other devices to create these tragicomic personae. Humor is an important element of her work, and she uses it to investigate issues of identity, cultural phenomena, politics, and social systems.
Prior to receiving a 2008 Grants to Artists award, Ben-Tor has performed and exhibited solo work at the PIF 2000 Festival, Zagreb, Croatia (2001); the LUTKE festival, Ljubljana, Slovenia (2001); The International Puppet Festival, Charleville-Mézières, France (2001); Chashama Theatre, New York (2002); Kansas City Art Institute (2006); and Mori Art Museum, Tokyo (2007). She presented Exotica, the Rat, and the Liberal as part of PERFORMA 05 (2005) and she debuted Judensau at PERFORMA 07 (2007). Her work has been included at group exhibitions and screenings at the Institute of Contemporary Art, London (2003); Jewish Film Festival, Berlin (2003); Vienna Jewish Film Week (2004); and MoMA PS1(2005).
With the support of her 2008 Grants to Artists award, Ben-Tor bought new video editing equipment and traveled to produce her film Polam (2009) that she presented in Disembodied Archetypes (2010), a two-person exhibition at Zach Feuer Gallery.
Ben-Tor has since staged performances and shown work in solo exhibitions at The Kitchen (2008), Atlanta Contemporary Art Center (2009), Salon 94 (2010), Zach Feuer Gallery (2012), and The Hague (2014), in addition to many venues in Israel. Her work has been included in group shows at Rhode Island School of Design Museum of Art (2008); Schirn Kunsthalle, Frankfurt (2009); Israel Film Archive, Jerusalem (2009); Institute of Contemporary Art, Philadelphia (2010); Museum of Fine Arts, Houston (2010); Young Projects, Los Angeles (2010); REDCAT, Los Angeles (2011); Museum of Contemporary Art, Karlsruhe, Germany (2011); Herzliya Museum of Contemporary Art, Israel (2013); and the American University Museum at the Katzen Arts Center, Washington DC (2013).
Ben-Tor's work is now included in the public collections of the Whitney Museum of American Art, Pérez Art Museum Miami, Tel Aviv Museum of Art, the Israel Museum, and the American University Museum, Washington DC. She received a grant from the Art Matters Foundation the same year as her FCA award (2008).
Ben-Tor graduated from The School of Visual Theatre in Jerusalem (2006) and received an M.F.A. from Columbia University School of the Arts (2010).