Tan Lin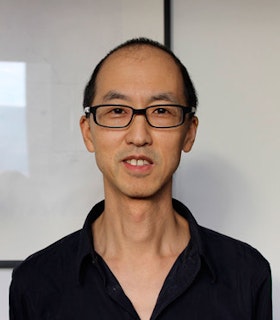 The grant has enabled me to take a full year leave from teaching… It has enabled me to work throughout the year and thus complete a number of projects… two PowerPoint videos that documented different modes of reading text... a photographic novel... a 15,000-word scholarly essay... a text for the Liverpool Biennial... A non-fiction generic and untitled text for Sex Magazine... a two-page poem for an anthology of writing for children... and an English-to-English translation of a Shakespearean Sonnet...
- Tan Lin, December 21, 2012
Artist Statement
My principal aim in the past fifteen years has been to produce an "ambient" literature; really a mode of literature rather than a recognizable genre that would be permeable and could disable the rigid categorization of work into such categories as poetry, fiction, and literary criticism/poetics. This project is grounded in relaxing certain parameters and engaging a set of (generic) practices that I see functioning in the culture at large, but that are not normally regarded as productive for the making of serious literature or literary criticism. Those practices center around but are not confined to sampling, communal production and social networks. They link to issues as diverse as relaxed copyright, boredom, plagiarism, and the commodification of attention. Working against avant-garde notions of difficulty, the work takes its cue from various popular cultural forms, including yoga, disco, the decorative arts, television, twentieth-century sound poetry, and electronica. I am presently working to complete a sampled novel, Our Feelings Were Made by Hand.
- December 2011
Biography
Poet and author Tan Lin's work is tied to cultural and media studies in a mode of literature he defines as "ambient" literature, which draws on and samples source material from popular culture and the Internet to address issues involving copyright, plagiarism, and technology. Lin is the author of Lotion Bullwhip Giraffe (1996), BlipSoak01 (2003), Plagiarism/Outsource: Notes Towards the Definition of Culture: Untitled Health Ledger Project: A History of the Search Engine: Disco OS (2007); 7 Controlled Vocabularies and Obituary 2004: The Joy of Cooking (2010); Insomnia and the Aunt (2011); Heath Course Pak (2011); BIB., Rev. Ed, (2011); FCA-supported An Annotated Index to the Photographic Work of Diana Kingsley, with Anecdotes and Emendations by M. Moore and E. Dickinson (2013); and Architecture of Tomorrow Morning (2014). He has shown work at White Columns, Performa 09, David Zwirner Gallery, Marianne Boesky Gallery, VertexList, MoMA PS1, Ohio University, and Yale University Art Gallery.
Prior to his 2012 Grants to Artists, Lin was a J. Paul Getty Visiting Scholar with The Getty Trust (2004), and received an Honorable Mention for Fiction with The Pushcart Prize (2004), a Creative Capital Arts Writing Grant (2006-2007), an Urban Artist/Initiative/NYC Grant from The Asian American Arts Alliance (2006-2007); and in 2012, received The Association for Asian American Studies Book Award in Poetry for titles published in 2010.
Lin received a B.A. from Carleton College (1979), an M.A. from Columbia University (1981), and a Ph.D. from Columbia University (1995). He has been a Professor of English at the University of Virginia, a visiting poet-in-residence at the California Institute of the Arts, and serves as an associate professor of English and Creative Writing at New Jersey City University.