Tere O'Connor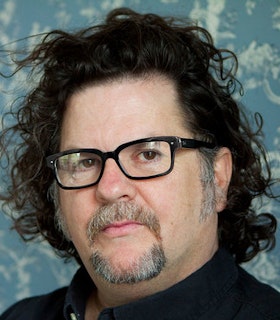 With the funds... I was able to augment the budget for Winter Belly and start my new non-profit company Big Tree Productions... I am very grateful for this inordinately large sum of money. It has very much enhanced the last two years of my creative life.
- Tere O'Connor, May 21, 2003
Artist Statement
For years I have worked to create a dance language of my own invention, using highly stylized physicality to represent ideological concerns and to filter these through the artificiality of the proscenium stage. The path of my work has gone from my early dances, which were abstract with a theatrical sensibility, to later dances, which included text necessitated by my need to engage in direct social commentary. The next phase will be a blend. Direct reference will be replaced by an abstraction that reexamines the tone of issues within the context of a dance language.
As an artist, I sift through a deluge of disparate ideas. The art of choreography is the attempt to capture their errant relativity. The motor of my work is the disinclination of these themes towards each other's natures. Seeds of the movement concepts for this next period involve divesting my body of dance training in an attempt to rid my work of scholastic body languages and locate a form of expression that is pre-linguistic.
- 2002
Biography
Tere O'Connor is a choreographer, dancer, and educator. He performed in Rosalind Newman and Matthew Diamond's companies and began choreographing his own work in 1982. He is the Artistic Director of Tere O'Connor Dance and frequently collaborates with composer James Baker. His creates highly varied works that defy cogency and subvert default movements.
O'Connor has created over forty works for his company and has toured these pieces throughout North and South America and Europe. His works prior to receiving his 2001 Grants to Artists award include Heaven up North (1988), The Death of Generous Henry (1994), Greta in the Ditch (1995), Mother (1996), House (1998), The World Is a Missing Girl (1998), Hi Everybody! (1999), and Choke (2001). O'Connor's 2001 FCPA grant funds supported Winter Belly (2002), which premiered at Danspace Project.
Since his 2001 Grants to Artists award, O'Connor's most recent works include Cover Boy (2011), Bleed (2013), undersweet (2014), and Giverny (2015). He premiered Bleed at the Brooklyn Academy of Music and it went on to the Walker Arts Center, American Dance Festival at Duke University, and Danspace Project. Bleed is the culmination of a two-year project during which O'Connor created Secret Mary (2012), poem (2012), and Sister (2012), and collapsed these three pieces into a fourth work. Each piece had an entirely different cast and drew from different source material, so that echoes of the previous dances resonate in Bleed but are layered, remembered, and forgotten. He has created numerous commissioned works for other dance companies, including the Lyon Opera Ballet, White Oak Dance Project, and solo works for Mikhail Baryshnikov and Jean Butler.
After his 2001 Grants to Artists award, O'Connor was awarded Multi Arts Production Grants (2003, 2005, 2006, 2012), a New York Foundation for the Arts Building Up Infrastructure Levels for Dance Grant (2006), a Creative Capital Award (2009), a United States Artists Rockefeller Fellowship (2009), a Doris Duke Performing Artist Award (2013), and repeated grants from the National Endowment for the Arts. O'Connor was elected into the American Academy of Arts and Arts and Sciences in October 2014. Previous to his 2001 FCPA grant, O'Connor received a John Simon Guggenheim Memorial Foundation Fellowship (1993), and three New York Dance and Performance "Bessie" Awards—one for Heaven Up North (1998), one for Sustained Achievement (1999), and one for Frozen Mommy (2004).
In 1979, O'Connor graduated with a B.A. from State University of New York at Purchase. O'Connor has taught at festivals and universities internationally, including the Bates Dance Festival, American Dance Festival, Colorado Dance Festival, Ohio State University, University of Minnesota, ImPulsTanz, and the School for New Dance Development in The Netherlands. O'Connor was a ballet instructor at New York University's Tisch School of the Arts from 1990 to 1999. He is a Center for Advanced Studies Professor of Dance at the University of Illinois at Urbana-Champaign and has been on the Danspace Project Artists Advisory Board since 1989.