Terry Creach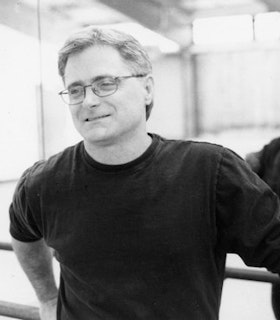 The effects of the grant were many, but the singular benefit was a full year without the constant, gnawing fear of meeting expenses... 2000 was a roller-coaster of new endeavors and artistic growth along with slack times, restlessness, and irritations... But with the Grant and with the performing and choreographic opportunities that, thankfully, did appear, I had a chance to address these issues and frustrations...
- Terry Creach, January 30, 2001
Artist Statement
Having a "men's company" is not a unique construction but certainly a rare one. It's a situation that I stumbled into and have stayed interested in. Men's bodies are both familiar and particular and loaded with behavioral constructs.
I'm interested in the physical interactions, the transactions, the really small improvisations that occur when people come into close proximity, into awareness and influence. I'm interested in their unique solutions to common situations. We develop strategies and vocabularies around investigations of weight, strength, timing, and momentum and we shift and shape the layers of meaning that pile up, as they will. I like the intimate with the athletic.
- 2000
Biography
Terry Creach was a postmodern dancer and choreographer. Collaborative investigations and partnering explorations were at the core of his choreographic process.
He performed with James Cunningham's Acme Company, the Vanaver Caravan, and Annabelle Gamson. Creach's company, founded first in 1983 with Stephen Koester as Creach/Koester, grew from a collaborative duet into an internationally touring ensemble. The group continued under Creach's direction since 1996 as Creach/Company. The company has been presented at venues including Danspace Project, The Kitchen, Symphony Space, Clarice Smith Performing Arts Center, Cleveland Public Theater, and Teatro de la Danza in Mexico City.
With support from his 1999 Grants to Artists award, Creach presented History of Private Life (2000) at Danspace Project and choreographed Tell Me the Truth About Love (2000), a work based on poems by W.H. Auden. In 2000 Creach also created "Kin" for Daghdha Dance Co. of Limerick, Ireland and showed "Conversation Piece" at Movement Research. He received choreographic commissions from Dartmouth Dance Ensemble, Dance Repertory Theater of Florida State University, and Mo-Trans Dance of Missoula. Creach was awarded choreography fellowships from The National Endowment for the Arts and the New York Foundation for the Arts.
Creach was a guest choreographer and teacher at numerous national and international dance programs including Tisch School of the Arts at New York University Summer Dance Festival, the Juilliard School, Ohio State University, Florida Dance Festival, Instituto Nacional de Belles Artes in Mexico City, University of Florida, Bates Dance Festival, and University of Maryland, College Park. He was on the dance faculty at Bennington College from 1987 to 2019 and from 2004 to 2010 he served as the Associate Dean for Academic Affairs there.