Tina Satter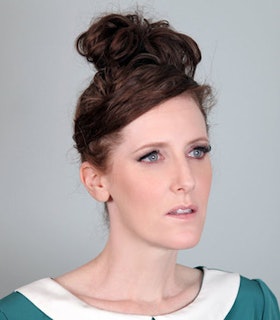 [The FCA Grant] has been meaningful in both very tangible and spiritual ways—and served as an ongoing reminder these past months of why I make the work I make, the places I want to keep pushing into, and the incredible community and support that surround my work and so many artists and people I look to and admire... While I've been very lucky with opportunities to make and show my work, the hustle never ends—and much of the time can feel quite stressful, so this awesome award from the Foundation for Contemporary Arts truly proved seminal in allowing my ongoing work as an artist.
- Tina Satter, December 14, 2016
Artist Statement
I write and direct plays, performances, television and film content, and make videos. I think of the projects I make as performative laboratories to deconstruct the preconceived, and am particularly interested in feminist and queer dynamics. I often set my work amongst groups of people and their attempts to connect with others. Original music and a very stylized approach to design elements are created for each piece. A central tenant of my practice is the re-framing of known idioms and situations usually presented to us on stage and in popular culture. I'm always trying to convey and show the edges, the corners, the underneath of moments and emotions and desires—and I'm truly experimenting with how to make that happen in subversive ways that still allow for a beauty and theatricality that can ignite a heartbeat, frame a feeling, and open up possibility.
- December 2015
Biography
Tina Satter is a writer and director of theater, video, music videos, and web series/television content. She is Artistic Director of the theater company Half Straddle, founded in 2008, and has toured her work to over fifteen cites globally. Satter's experimental theater works often explore feminist and queer dynamics and incorporate a wide range of material, from classic theater to pop culture, through a satirical or humorous lens.
Satter's credits as a writer and director include The Knockout Blow (2008), FAMILY (2009), Nurses in New England (2010), In the Pony Palace/FOOTBALL (2011), Away Uniform (2012), Seagull (Thinking of you) (2013), House of Dance (2013), and Ancient Lives (2015). Her first collection of plays, Seagull (Thinking of you), was published by 53rd State Press in 2014.
Satter's 2016 Grants to Artists award supported the development and premiere of Ghost Rings (2016) at New York Live Arts, New York. Satter's plays have been shown at festivals and theaters internationally, including France, Croatia, Japan, Portugal, and the United States. Her work has been commissioned and presented in New York City by theaters including The Kitchen, Performance Space 122, and the Bushwick Starr; and at festivals including COIL Festival at Performance Space 122, Prelude Festival, and Philadelphia's FringeArts.
Her work has received funding from the FCA Emergency Grants program (2011), the Rockefeller MAP Fund, and the Jerome Foundation. Her company, Half Straddle, received an Obie Award (2013) and her show House of Dance was nominated for the ZKB Patronage Prize of the Zürcher Theater Spektakel (2014). Satter received a Doris Duke Impact Award in 2014. She was a featured director at Culture Project's 2011 Women Center Stage Festival. She has completed residencies at SPACE on Ryder Farm (2012), The New Museum (2012-2013), Orchard Project (2013), The Kitchen (2013), Headlands Center for the Arts (2014), and Yaddo (2014).
Satter received a B.A. from Bowdoin College (1996), an M.A. from Reed College (2004), and attended the Brooklyn College graduate playwriting program (2007-2009), where she studied with playwright Mac Wellman. She is a visiting playwright and teacher at the University of Michigan; and has been a guest artist at Princeton University, Reed College, and Fordham University.