Tomeka Reid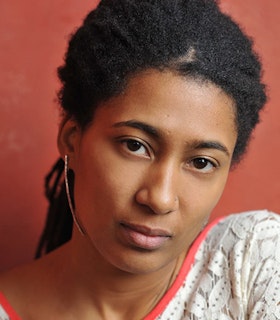 2019 proved to be quite an eventful year! ... I embarked on a two-and-a-half-week excursion to Ethiopia to continue studies of the masinqo, a one-stringed fiddle with master musician, Endris Hassen… Making these kinds of trips are important to me. While I feel very fortunate to travel and perform, mostly in the U.S. and Europe, it does not always afford me the opportunity to visit other music communities that I am interested in engaging with as many of these places may not have the ability to bring in musicians… I also had the opportunity to record a duo record [with Alexander Hawkins] which will be released on Intakt records in 2020. [In August] I received news that I had received the position at Mills College. However, as I was such a late hire, I would have to commute in each week to honor my previously scheduled tour commitments. The FCA grant came very much in handy to cover the additional air travel and Airbnbs that I would need to rely on to get me through the semester.
- Tomeka Reid, December 23, 2019
Artist Statement
I find composing, performing, and programming creative music humbling and the most enriching path to have chosen to pursue. It cultivates dedication, motivation, and resilience; it provides, at every turn, situations that test my commitment to myself, my community, and to the legacy that has been laid before me. Being a creative musician sharpens my ability to communicate and listen, both of which are extremely important tools desperately needed and readily applicable to our daily lives. Playing creative music, where improvisation is the foundation, forces me to be present and exercises my reflexes. While performing, I must deal with who I am at that very moment and make do with what I have right then and there, in that given space, with that collection of musicians and in front of that unique audience. It is one of the most alive feelings, which is both exciting and daunting. You HAVE to be about it! If you are not, your colleagues feel it, your audience feels it and most importantly YOU feel it. It forces you to let go, and deal with yourself in the most real way and I believe that the more we commit to do this kind of individual work, whatever our medium, the better we become as people: more loving, more accepting, more forgiving, more thoughtful, and the list goes on.
- December 2018
Biography
Described as a "New Jazz Power Source" by The New York Times, cellist and composer Tomeka Reid is an original, versatile, and curious musician working within the jazz and improvised music community. Her distinctive melodic sensibility, usually braided to a strong sense of groove, has been featured in many distinguished ensembles.
Reid released her debut recording as a bandleader in 2015, with the eponymous recording by the Tomeka Reid Quartet. The work is lively yet charged, and showcases her improvisational acumen, knack for dynamic arrangements, and her compositional ability. She has been a key member of ensembles led by legendary reedists such as Anthony Braxton and Roscoe Mitchell, as well as a younger generation of artists including singer Dee Alexander, flutist Nicole Mitchell, and drummer Mike Reed. Along with bassist Silvia Bolognesi and violinist Mazz Swift, Reid is a co-leader of the string trio Hear in Now. She has also worked closely with the Association for the Advancement of Creative Musicians.
Reid is the Executive and Artistic Director of the Chicago Jazz String Summit, and received a 3Arts Award in 2016. She holds a B.M. and M.M. from DePaul University, and a D.M.A from the University of Illinois at Urbana-Champaign.