Trevor Winkfield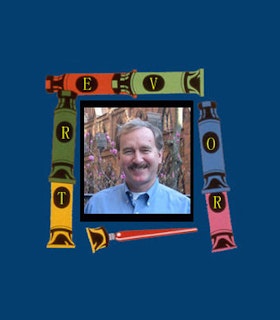 Of course the principal benefit of receiving the award was being able to continue devoting myself totally to painting, something which, willy-nilly, I had managed to do the previous six years, albeit mostly on a mouse's rations. The award allowed me to live free of financial worries for a further eighteen months and complete seven large paintings. I was also able to spend time studying Native American wall paintings in the Southwest, Romanesque art and architecture in Northern Italy, and visit the Georges Braque retrospective in Venice.
- Trevor Winkfield, December 2, 1994
Artist Statement
"The work of art is a stuffed crocodile."
- Alfred Jarry
- 2014
Biography
Trevor Winkfield is a writer and painter. Winkfield describes his artwork as abstract-figurative painting that makes reference to the subconscious. He is a frequent collaborator with poets and writers such as Harry Mathews and John Ashbery.
Winkfield's work has been the subject of solo exhibitions at Institute of Contemporary Art, Boston, Tibor de Nagy Gallery, Erie Art Museum, Barbara Ann Levy Gallery, Edward Thorp Gallery, Blue Mountain Gallery, Fischbach Gallery, and E. M. Donahue Gallery. His work has also been included in group exhibitions at Omi International in Ghent, New York; the American Academy of Arts and Letters; the National Academy of Design; the Francis M. Naumann; D. C. Moore Gallery; Snug Harbor Cultural Center, Knoedler Gallery; and Geoffrey Young Gallery.
Winkfield is the author of How I Became a Painter, a conversation with the poet Miles Champion, and Georges Braque & Others: The Selected Art Writings of Trevor Winkfield, which includes essays on John Graham, Jasper Johns, Florine Stettheimer, and Vermeer. He has edited the magazines Juillard, Lewis Carroll Circular, and The Sienese Shredder. He is the editor and and translator of Raymond Roussel's How I Wrote Certain of My Books and Other Writings.
Winkfield has been recognized with numerous awards and fellowships. Subsequent to receiving his FCPA grant Winklefield received a Hillwood Fellowship (1993), Yaddo Fellowships (2006, 2008, 2010), an Academy Award in Art from the American Academy of Arts and Letters (2000), the American Academy of Arts and Letters Purchase Prize (2008), and a Pollock-Krasner Foundation grant (2008). He was named Chevalier dans l'Ordre des Arts et des Lettres in 2002 by the French government. Previous to receiving his 1993 Grants to Artists award, Winkfield received an Engelhard Award (1986), and a John Simon Guggenheim Memorial Foundation Fellowship (1990).
Winkfield graduated from Leeds College of Art in 1964 and earned an M.A. in Fine Art from the Royal College of Art in London in 1967.