Trimpin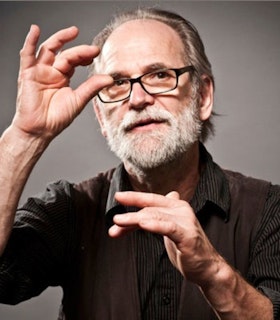 …My most valuable gift through the grant I received was being able to focus on projects that were not bound to a deadline and which necessarily have to be executed in a short period of time. It's rare that any artist has this opportunity and for this I'm truly grateful.
- Trimpin, March 7, 1996
Biography
Trimpin is a sound sculptor, composer, engineer, and inventor. A specialist in interfacing computers with traditional instruments, he has developed ways of playing instruments ranging from giant marimbas to stacks of electric guitars via computer. His work integrates sculpture sound, and live performance. Born in Germany near the Black Forest, Trimpin spent several years living and studying in Berlin, working as a set designer and collaborating with artists from both Germany and the United States. He relocated to the United States in 1979.
His work has been performed and exhibited at shows, performances, new music festivals, museums, and galleries around the world including Seattle Art Museum, International Jazz Festival in Vancouver, Missoula Museum of Art in Montana, Tacoma Art Museum, Washington State University Museum of Art, Ojai Music Festival, and Other Minds Festival.
From 2005 through 2007, museums and galleries throughout the Pacific Northwest mounted an extensive retrospective of Trimpin's work. His sound sculptures, installations, and set designs have been developed in collaboration with artists such as Merce Cunningham, Samuel Beckett, Conlon Nancarrow, and the Kronos Quartet.
Subsequent to receiving his 1994 Grants to Artists award, Trimpin received a MacArthur "Genius" Award and a John Simon Guggenheim Memorial Fellowship for his investigations of acoustic music in spatial relationship, both in 1997. He holds an Honorary Doctorate in Musical Arts from California Institute of the Arts, which he was awarded in 2010.
Trimpin is the subject of the 2009 documentary film, TRIMPIN: The Sound of Invention, which premiered at the South by Southwest Film Festival and a 2011 book, Trimpin: Contraptions for Art and Sound, edited by Anne Focke.
Artist Statement
One major project, which has been ongoing for several years and was never before funded––that your grant has now supported––was my archiving of composer Colon Nancarrow's entire body of work. I've been working with him to put everything on a database where it could be performed outside Mexico City, where he lives. As I'm sure you know, the fragile nature of his original scores on perforated paper piano rolls meant that the originals could never be used. The majority of the funding was used to analyze and edit the scanned materials onsite, which I had the help of an assistant for, but the project is so exacting and time-consuming it hasn't yet been completed. For the next period of time I'll return to Mexico to continue pursuing this. Eventually, through this work Nancarrow's compositions will be able to be performed all over the world and musicians or scholars will be able to study the scores firsthand, most likely on CD-ROM as well. As Nancarrow is elderly, it was imperative that the project be accomplished as soon as possible and your funding could not have come at a more opportune time.
- March 7, 1996