Wade Guyton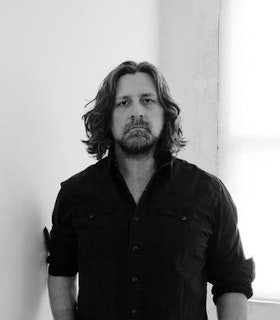 Without the support of the Foundation at this critical time, I'm not sure how my work would have progressed—certainly not as rapidly or freely.
- Wade Guyton, March 21, 2006
Artist Statement
Recently I've been using Epson inkjet printers and flatbed scanners as tools to make works that act like drawings, paintings, even sculptures. I spend a lot of time with books and so logically I've ended up using pages from books as material—pages torn from books and fed through an inkjet printer. I've been using a very pared down vocabulary of simple shapes and letters drawn or typed in Microsoft Word, then printed on top of these pages from catalogues, magazines, posters—and even blank canvas. The resulting images aren't exactly what the machines are designed for—slick digital photographs. There is often a struggle between the printer and my material—and the traces of this are left on the surface—snags, drips, streaks, mis-registrations, blurs.
- 2006
Biography
Wade Guyton uses common digital technologies as studio tools to explore relationships among viewers, images, and artworks. He frequently uses inkjet printing to create paintings and drawings that include intentional errors. He creates work under the moniker Guyton\Walker with Kelley Walker. Guyton is also a member of the collaborative Continuous Project with Bettina Funcke, Joseph Logan, and Seth Price.
The funds from Guyton's 2004 Grants to Artists award allowed him to experiment more freely with expensive materials such as rolls of primed linen and ink at a scale and cost that previously would not have been possible. He credits this to having fundamentally changed the direction of his work. The following year, Guyton was featured in MoMA PS1's Greater New York exhibition.
Since receiving his 2004 FCPA grant, Guyton's work has been the subject of solo exhibitions at the Whitney Museum of American Art; Kunsthaus Bregenz, Austria; Kunsthalle Zürich; Museum Ludwig, Cologne; Portikus, Frankfurt; the Kunstverein in Hamburg; Galerie Chantal Crousel, Paris; Petzel Gallery, New York; and La Salle de Bains, Lyon; among others.
Subsequent to his 2004 Grants to Artists award, Guyton's work has also been featured in the 2004 Whitney Biennial, the 2007 Biennale de Lyon, the 2013 Carnegie International, and the 2013 Venice Biennale; as well as group exhibitions at venues including the Kunsthalle Zürich; Museum of Contemporary Art, Chicago; The Hammer Museum at the University of California, Los Angeles; and The Museum of Modern Art.
Guyton's work is now held in the permanent collections of major institutions, including the Whitney Museum of American Art, the Centre Georges Pompidou, the Pinakothek der Moderne, Munich, Kunstmuseum Basel, the Museum of Contemporary Art Los Angeles, the Moderna Museet, Stockholm, San Francisco Museum of Modern Art, and The Museum of Modern Art.
He received a B.A. from the University of Tennessee, Knoxville in 1995 and pursued graduate studies at Hunter College, where he studied with sculptor Robert Morris.