Walter Dundervill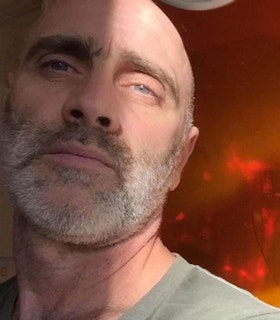 For the first time, I have been able to pay [my] dancers for rehearsals. My work is dependent on my relationship with the dancers, several of whom have been collaborating with me for years. Paying them for their time in rehearsal not only provided an economic benefit congruous to their commitment, it also deepened the trust and respect essential to the creation of new work.
- Walter Dundervill, December 22, 2016
Artist Statement
In my work, I aim to challenge expectations of how a dance performance can function, creating
formal transparencies for experiencing the visual, the kinetic, and the sensory.
I conflate the visual and choreographic aspects of dance into an arena
where both have equal value, bringing the background
materials of visual décor to the foreground while allowing the performance
of the dance to recede. This creates a push/pull effect, encouraging the viewer to continually
shift focus throughout the experience. In this way, my performances function as living temporal
objects in which people and materials merge and interact.

In addition, my work addresses a tension between art and design, excavating images of art
historical representation, period costuming, and modernist objects. I transform painting's
obsession with surface detail, light, and color into live experiences composed of fabric, painted
cardboard, plastic, and foil.
At the heart of the dancing itself, is an investigation into the substrata of
performing which reduces choreography to essential components that form a dancer's
experience - sensation, presence, embodiment, immediacy. The dancers inhabit my work as
human beings engaged in actions inherent to their environment—an environment of artifice
which is built around them. A culture of social codes operates inside of this world in which
hierarchical dynamics are negotiated between the dancers and myself. The dancers may accept
or reject my interventions—submit, resist, or collaborate. Their agency within these immediate
decisions determines the course of action of the performances.
My inquiry is formalistic but it is also deeply human. It addresses our relationship to materiality
and the senses and how we take for granted certain hierarchies of perception.
- December 2015
Biography
Walter Dundervill is a choreographer who creates immersive performance environments fusing dance, visual art, costume, and sound design. Dundervill has performed in the work of other dance and visual artists including RoseAnne Spradlin, DD Dorvillier/Future Human Dance Corps, Bruce Nauman, Lovett/Codagnone, Luther Price, and David Wojnarowicz.
Dundervill's 2016 Grants to Artists award supported a research trip to Italy, where he studied Roman frescoes that became a central concept in the practice and presentation of his work Skybox (2016), presented at New York Live Arts, New York. Prior to receiving his FCA support, Dundervill premiered his works domestically and internationally, including You Wrote The Book, at Dance Theater Workshop, New York (2008); Dear Emissary,…, at The Chocolate Factory Theater, Long Island City (2010); Compression Piece, at Chicago Dancing Festival, Chicago (2011); ARENA 1, at the Solo in Azione Festival, Studio 28, Milan, Italy (2011); Aesthetic Destiny 1: Candy Mountain, at Dance Theater Workshop, New York (2011); Color Parade, which premiered and was performed again at Roger Smith Hotel, New York (2013, 2014); Ornamental, at PLATFORM 2014: Diary of an Image, Danspace Project, New York (2014); and ARENA, at JACK, Brooklyn (2014, 2015, 2016), and as a part of the Greater New York Performance Series at MoMA PS1, Long Island City (2016). His work has also been presented in New York at New York Live Arts, Judson Church, The New Museum, and Participant Inc.
Dundervill was an Artist-in-Residence at Movement Research in 2010-2011, in 2012 he held the RE:NEW RE:PLAY performance residency at The New Museum co-presented by Movement Research, and he was a 2012-2013 Studio Series resident at New York Live Arts. Dundervill has received three New York Dance and Performance "Bessie" Awards, for Outstanding Performer for RoseAnne Spradlin's under/world (2003), for Costume Design for luciana achugar's Puro Deseo (2009), and for Visual Design for Aesthetic Destiny 1: Candy Mountain (2011).
Dundervill graduated with a B.F.A. from the University of Georgia in 1987. He is also a member of the Artist Advisory Council at Movement Research.