Wang Jianwei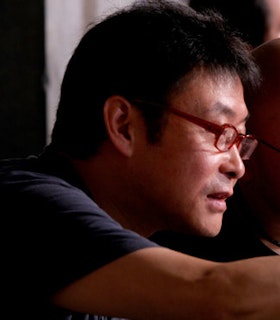 With the FCA grant, I was able to carry on with my interdisciplinary project that followed my years long exploration into the theatre, video/cinema, and performance... I must say that the FCA grant is not only inspiring but also supportive of my career, and the show also provided me a great chance to show with a number of top artists around the world...
- Wang Jianwei, January 2009
Artist Statement
For more than ten years, I have been concerned with the influence of current intellectual discourse and different media on contemporary art. This curiosity has prompted me to use diverse media to create a new language for art. That is why in my work I utilize a wide range of media, including film/video, theatrical performance, and painting.
- December 2007
Biography
Wang Jianwei has been active in Chinese contemporary art since the 1970s. Wang's work is experimental in medium and form. He creates large video and installation works, often incorporate sculpture and performance. These works attempt to examine the relationship between art and social reality, often working from the notion that the production of artwork is a performance and a rehearsal. He aspires to integrate history, philosophy, literature, and modern criticism, as well as the dramas of daily life.
With the support of his 2008 FCA grant, Wang created the multimedia project Welcome to the Desert of the Real (2008). Funds from his Grants to Artists award were also directed to his installation Hostage (2008), shown at the Shanghai Zendai Museum of Modern Art in Shanghai. Hostage reconstructed the daily life on a Cultural Revolution-era commune, exploring concepts of utopia, influence, and representation through video, sculpture, and photography.
Before Wang received his 2008 Grants to Artists award, his work was shown in solo exhibitions at Hong Kong Arts Centre (1992), Walker Art Center (2002), and Chambers Fine Art in New York (2005). Additionally, his work has been shown in group exhibitions at venues across China as well as the Gwanju Biennale (1995), Documenta X (1997), Louisiana Museum of Modern Art in Demark (1998), MoMA PS1 (1998), Queens Museum of Art (2001), the Sao Paulo Biennale (2002), Pompidou Centre (2003), Walker Art Center (2003), the Venice Biennale (2003), and Hebbel am Ufer in Berlin (2007).
Since receiving his 2008 FCA grant, Wang's work has been the subject of solo exhibitions at Today Art Museum, Beijing (2009); Kaserne Basel, Switzerland (2010); Ullens Center for Contemporary Art, Beijing (2011); and Long March Space, Beijing (2013). Wang's work was also exhibited at the Sharjah Biennale (2013). His installation and performance at the Solomon R. Guggenheim Museum, Wang Jianwei: Time Temple (2014-2015), explored conceptions and experiences of time in a contemporary context.
Wang received a B.F.A. from Zhejiang Academy of Fine Arts in Hangzhou, China in 1988, where he was trained as a painter.