Wardell Milan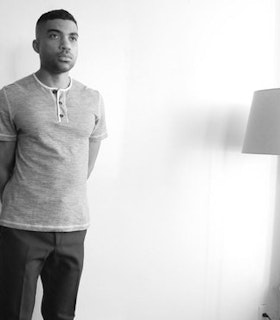 During the past year, photographs, works on paper, and drawings were conceived and birthed without concessions. For me, this was, and is the most significant use of the received grant... The [Grants to Artists award] has doubtlessly influenced my artistic advancement, allowing me to set a tone in my studio practice that is risky and more assertive...
- Wardell Milan, December 12, 2014
Artist Statement
The paradoxical state of dualisms or twoness and the philosophical themes of the Absurdist movement are at the core of my intellectual and artistic curiosities. Charles Baudelaire meditated on the concept of twoness—oscillating between two simultaneous inclinations: one towards the grace of God, the other a primal descent towards Satan; terming this duality the "tragedy of man." Within my examinations of the ideas of twoness, desire, mourning, and identity, idiosyncratic obsessions and love interact in an ambivalent way, but also in a way that registers the complexities of the individual, and the absurdity of life's banal situations and social doctrines.
My work pivots between the illusionary possibilities of photography and the mutability of drawing and collage. In my photographic work, hand-constructed table top dioramas, illustrating fantastic landscapes and alternative worlds, are a grand mixture of history, a set of stories and images—the kinds we read in textbooks and recount in museums—autobiography and mythology collapsed into each other, producing narratives that are psychologically charged and imagistic. Informed by the refusal of temporality, my works on paper rely on the principles of incompletion and fragmentation. Evacuating time, culture, and the body from linear logic, these ideas and drawings become displaced and refigured in order to discover a truer, more complicated, and impossible riddled story about ourselves as individuals; and a foray for us, into self-realization, self-discovery, and perhaps a kind of socio-cultural redemption.
- December 2013
Biography
Wardell Milan is a visual artist who makes works on paper, painting, mixed media, videos, and photographs. Milan combines drawing and photography in collages and three-dimensional dioramas. A combination of visual imprints from watching cartoons and muscle builders on television as a child, receiving a Pentax camera at an early age, Saturday morning art classes, and match box cars embedded in dioramas, all came alive in Milan's home studio and are still central to his artistic inquiry today. The context for Milan's work is provided by beauty and glamour, violence, mortality, and public figures viewed as immortal and superhuman.
Milan used funds from his 2014 Grants to Artists award to develop the first chapter of a new body of work, The Kingdom or Exile: Parisian Landscapes (2012). He presented Show (Untitled) Parisian Landscapes at OSMOS Address in 2014, as a series of four separate but related bodies of work including large-scale sculptures, photographs, and drawings. Milan continued to develop ongoing projects using OSMOS Address as a space to workshop his ideas.
Since 2005, Milan has held solo exhibitions at The Studio Museum, Harlem; David Nolan Gallery; Taxter and Spengemann Gallery; Louis B. James Gallery; Savannah College of Art and Design; Sampson Projects, Boston; Franklin Arts Works, Minneapolis; Clough-Hanson Gallery, Rhodes College, Memphis; and Annarumma 404 Gallery, Naples. Milan's work has been shown in group exhibitions at MoMA PS1, The Bronx Museum of the Arts, the Institute of Contemporary Art, Philadelphia; White Columns; David Nolan Gallery; Vox Populi, Philadelphia; and The Andy Warhol Museum, Pittsburgh. His work is in the collections of The Studio Museum in Harlem, the Whitney Museum, The Museum of Modern Art, the San Francisco Museum of Modern Art, and the Art Institute of Chicago.
Previous to receiving his 2014 FCA grant, Milan received The Louis Comfort Tiffany Award (2007), an Art Matters Traveling Grant (2010), and was an artist-in-residence at the Skowhegan School of Painting and Sculpture (2003), the Lower East Side Printshop (2010), and the Whitney Museum (2010-2011).
Milan received a B.F.A. in Photography and Painting from the University of Tennessee, Knoxville in 2001 and his M.F.A. in Photography from Yale University in 2004.