William Anastasi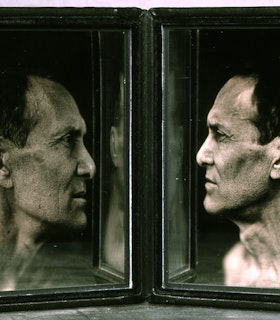 The Foundation's generous grant was used to help with studio rent and essential artist supplies.
- William Anastasi, 2010
Artist Statement
From earliest memory I have been drawing every day. But I cannot be certain whether this practice started before or after having first heard Jeanette Corona Anastasi, my mom, calmly remarked, "But of course the best thing anyone could be in this world is an artist." How an immigrant without higher schooling came upon this idea was never revealed. But I believe its effect on me was profound. It wasn't until 1960 before I began to whisper to myself, nervously, "Maybe you are, after all, an artist."
I moved to New York in 1962. That year Philip Guston, by accident, saw three of my plaster on tar paper works. He was enthusiastic about them and wrote a letter recommending my work to Betty Parsons, who had a gallery on 57th Street. She visited my East Village apartment, bought some works for her own collection and placed three other works in a group show in her gallery. I would eventually show works made between 1960 and 1969 in five solo exhibitions in New York. Extraordinarily strong, positive writing reflected some of those shows, but buyers were not impressed.
In retrospect I believe that this neglect was a marvelous example of foul-is-fair. I am now certain that an early financial success would have been an obstacle to a steady and normal development. At present this sort of success has come my way, but it has not diminished my decades-old identification with a remark from the beginning of Kant's Critique of Pure Reason, "Nearly through the whole of my work I have felt doubtful what to do."
- December 2009
Biography
William Anastasi is an artist whose interdisciplinary practice encompasses sculpture, drawing, installation, and photography. Regarded as one of the founders of conceptual art in the 1960s, Anastasi grounds much of his work on the idea of chance and has been recognized as a pioneer of site-specific, conceptual, and minimal art. Some of Anastasi's best-known works include the four exhibitions at the Dwan Gallery between 1966 and 1970, including his 1967 exhibition "Six Sites."
Anastasi has been creating his unsighted works and Subway Drawings for decades, separating artistic creation from conscious thought and allowing various environments to influence the physical action of creation. In the late 1970s, Anastasi reinvestigated his Subway Drawings of the early 1960s while riding on the subway to and from daily chess games with FCA co-founder John Cage. In these drawings Anastasi surrendered to the movement of the train to transform lines onto paper. As Cage once said of Anastasi's work, "It's not psychological; it's physical."
Since the 1960s Anastasi's work has been featured in solo exhibitions at Peter Blum Gallery, Dwan Gallery, Baumgartner Gallery, Sandra Gering Gallery, The Drawing Center, Bjorn Ressle Fine Art, Nikolai Contemporary Art Center, Copenhagen; Galerie Jocelyn Wolff, Paris; The Esberg Museum of Modern Art, Denmark; and Isabelle Du Moulin und Nils Borch Jensen Galerie, Berlin. The 2013 exhibition "William Anastasi: Sounds Works, 1963-2013" at Leubsdorf Art Gallery at Hunter College CUNY, examined the importance of sound in Anastasi's work and his investigations into what the exhibition materials described as the "status, autonomy, and representational function of the art object."
Anastasi's work has been included in group exhibitions internationally, at MoMA PS1, The Museum of Modern Art, the Whitney Museum of American Art, Musée d'Art Moderne de la Ville de Paris, the New Museum, The Hudson River Museum, Paula Cooper Gallery, Leo Castelli Gallery, Lorence Monk Gallery, and Pace Gallery. His works are held in the collections of the Metropolitan Museum of Art, The Museum of Modern Art, Solomon R. Guggenheim Museum, the Whitney Museum of American Art, the Walker Art Center, the National Gallery of Art, and the Art Institute of Chicago.
In 1984, Anastasi was appointed Artistic Advisor to the Merce Cunningham Dance Company with Dove Bradshaw, a post he held until 1990. Anastasi has given lectures at the School of Visual Arts, Atlanta School of Art and Design, the Whitney Museum of American Art, the Art Institute of Chicago, The Museum of Modern Art, and the University of Pennsylvania.