William Duckworth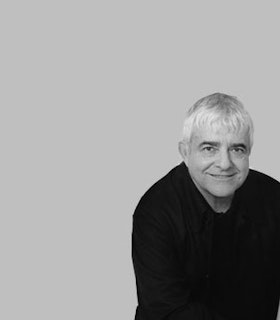 ...as a former friend of John Cage it is a great honor to receive recognition from an organization he co-founded. So beyond financial considerations, which were extremely important in themselves, the [Grants to Artists] award has a deep and profound significance for me personally, and for my work, as well.
- William Duckworth, April 10, 2004
Artist Statement
For almost a decade, my work has focused on the Internet. This has changed it profoundly, and my concepts of who my listeners are, what they hear, and what the circumstances are in which they hear it, have all transformed.
Online since 1997, Cathedral is the first interactive site of music and art on the Web. Created with media artist and programmer Nora Farrell, it consists of three primary components: a website featuring a variety of interactive musical, artistic, and text-based experiences; a group of virtual instruments, including the PitchWeb, that allow listeners to participate actively and creatively; and an Internet band that gives live performances and offers listeners focused moments in which to come together and play music in a community online.
Live Cathedral webcasts began in 1998 from the Spoleto Festival USA. In 2001, we produced a 48-hour online festival of Internet music that streamed 34 concerts live from five continents. During the following three years, the Cathedral Band gave live/online interactive performances from Australia and Japan, plus a number of locations in America, including The Cutting Room, La Mama, and the Winter Garden in New York. Our 2005 activities include the Worldwide Wireless PitchWeb Day, with performers on four continents playing for twelve continuous hours; the beginning of Cathedral Radio; and the Memory Theater, an iPod opera. Podcast in 49 playlists between April 10, 2005 and February 24, 2007, the iPod opera is a retelling of the Cathedral story's five moments, through the myth of Orpheus and Eurydice (as told by the Chronicler), based on the form of Monteverdi's l'Orfeo.
- 2003
Biography
William Duckworth was a composer, performer, author, and teacher. His composition Time Curve Preludes (1977-1978) for piano defines the style of postminimalist music. Since their 1979 premiere, these preludes have been widely performed and heard. Duckworth composed numerous works for ensemble, keyboard, orchestra, percussion, solo, and vocal.
In 1997, Duckworth and Nora Farrell, a media artist and programmer, began Cathedral, the first interactive work of music and art on the web. Cathedral features a rich-media website and new virtual instruments, including the PitchWeb and the Cathedral Band, a worldwide collective that bridges the virtual and live worlds. Band performances have been webcast from Australia and Japan, as well as from a variety of locations in the U.S. such as Roulette, Galapagos, The Cutting Room, La MaMa E.T.C., the Winter Garden, and the Hiro Lounge at the Maritime Hotel. Duckworth's 2002 Grants to Artists award supported the release of The Cathedral Band's CD in 2003 and several performances in Japan and New York. Visitors to the Cathedral site now exceed five million, and the development of the project is chronicled in Virtual Music: How the Web Got Wired for Sound (Duckworth: Routledge, 2005).
Duckworth and Farrell's second project, an iPod opera based on the Orpheus myth, explores space, scale, memory, and echo through a two-year unfolding of video podcasts and stage performances, culminating in a public opera, iOrpheus. The opera was staged in the streets and promenades of the South Bank Parklands in Brisbane, Australia in 2007. They returned to Australia in 2009 to inaugurate a multi-year project titled Sonic Babylon, an art project planting gardens of sound around the world; invisible gardens hanging in the air and heard on mobile devices when visitors pass through. These gardens include the first permanent sound garden in Australia at the National Film and Sound Archive in Canberra.
After his 2002 FCPA grant, Duckworth was given a Senior Fulbright Specialist Award in Information Technology to Australia (2007); he was also a Master Artist at the Atlantic Center for the Arts (2006) and an Inaugural Creative Arts Fellow for South Bank Precinct, Brisbane (2007). Prior to his 2002 Grants to Artists award, Duckworth received National Endowment for the Humanities Fellowships (1981, 1988), a National Endowment for the Arts Fellowship (1983), and an ASCAP-Deems Taylor Internet Award (2001).
Duckworth graduated from the University of Illinois in 1971 and taught at Bucknell University from 1973 to 2011.