Wu Tsang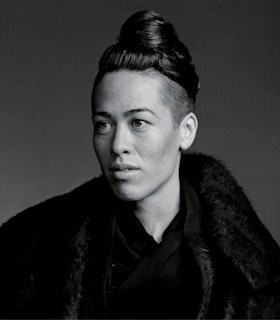 Thanks to FCA, my artistic career has been transformed. I have been able to commit to more exhibition opportunities and take on more ambitious projects. Your generous grant provided me with the invaluable gift of time, which I used to launch a full-time artistic career.
- Wu Tsang, January 1, 2014
Artist Statement
My work takes different forms, mostly film and performance. A central theme in my work is the "voice" as a metaphor to explore questions of representation such as "who is speaking for whom?" and "whose voices are heard, whose are silenced?" I studied bel canto opera technique, and learned how the medium of voice relates to the body and affect. I'm also informed by working as a grass-roots organizer and being involved with social justice movements. Living in Los Angeles defines my practice because I draw inspiration from civic life and the landscape. Being "trans" or GNC (gender non-conforming) can be challenging because people want to peg it as an identity group rather than see it as a shifting strategy of resistance. I dislike the word visibility, perhaps because for me it evokes the rhetoric of assimilation, as if the goal of trans movements were about being "seen" and gaining acceptance from society—I don't subscribe to that.
Through making the documentary Wildness, I had to confront the representation of "minorities" in mainstream film. The main challenge of representing my experience was finding a way to convey complexity and difference without alienating audiences who could not readily identify. Wildness took four years to make as it evolved from an observational documentary into a scripted film. I collaborated with my co-writer Roya Rastegar and actress Mariana Marroquin to create the voice of the Silver Platter. This voice became the key to telling the story in a way that was accessible and broadened our perspectives. The Silver Platter plays an elder/parent to my character, who nurtures me but also teaches me hard lessons when I make mistakes. At it's heart, I think Wildness is a coming of age story, which uses magical realism to expose the fine line between the fantasy of social movements and the harsh reality of putting ideas into practice as a young activist.
- December 2012
Biography
Wu Tsang is a multimedia artist and filmmaker. Her work explores issues of transgender identity and queer communities. Her projects include Mishima in Mexico, Tied and True, Shape of a Right Statement, Damelo Todo, Breakdown, Green Room, For how we perceived a life (Take 3), Full Body Quotation performance at Performa 11, and P.I.G. (Politically Involved Girls). Her short You're Dead to Me premiered on PBS and won the 2014 Imagen Award for Best Short. In 2012, Tsang released her first feature, Wildness. The film features the Silver Platter, a bar on the east side of Los Angeles that has catered to the Latin immigrant and queer community since 1963. Wildness premiered at The Museum of Modern Art's Documentary Fortnight in 2012, and Hot Docs Canadian International Documentary in Toronto. With the support of her Grants to Artists award, Tsang began production on A day in the life of bliss, featuring the performer boychild.
Tsang's films, performances, and installations have been presented at museums and film festivals internationally. Her work has been included in exhibitions at the Contemporary Art Museum Houston, the Wexner Center for the Arts, The Geffen Contemporary at The Museum of Contemporary Art, Los Angeles; the Institute of Contemporary Art Philadelphia; and La MaMa Galleria. In 2012, Tsang was the only artist to have work featured in the concurrent Whitney Biennial and the New Museum Triennial. Tsang has also presented projects at the Gwangju Biennial in South Korea, the Liverpool Biennial, and the Hammer Museum Biennial. Her work has been screened at the Guggenheim Museum, REDCAT, Tate Modern, London; Palais de Tokyo, Paris; Frieze Art Fair; and Identities Film Festival, Vienna.
After receiving her FCA support, Tsang was a 2014 Rockefeller Bellagio Creative Arts Fellow (2014), and is Creative Capital Fellow (2015). Prior to her 2013 Grants to Artists, Tsang was a Louis Comfort Tiffany Fellow (2012) and a Film Independent Project Involve Directing Fellow (2012).
In 2004, Tsang received a B.F.A. from the School of the Art Institute of Chicago, and in 2010 he received an Interdisciplinary Studio M.F.A. from the University of California, Los Angeles.