Yasunao Tone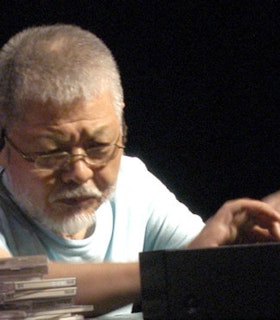 The grant made it possible to compose a new performance piece for the Cut and Splice Festival (London), titled Paramedia Centripetal... I also performed the same piece for the American premiere at the Merkin Concert Hall in New York City and for the German premiere in the Open Systems Festival in Dortmund, Germany.
- Yasunao Tone, January 31, 2006
Artist Statement
Since the seventies, my work has been distinguished through the conversion of text into music via images. The conversion started with a performance piece, Voice and Phenomenon (1976), in which I used Chinese Characters from 8th century poems to convert into images. The piece developed into Molecular Music (1982), a film consisting of images converted from written text. Chinese characters of poetic text are converted with a sound generating device, an oscillator connected to light sensors attached to the screen, so that the images projected onto the screen change the sound as the images change. This method developed to digital means in 1992 with Musica Iconologos, a piece based on the converted images of the written text of ancient Chinese poems, which are scanned and digitized. The digital data is converted into sound by computer program. These sounds derive other sounds with a critique of the medium in use. Other such pieces include Music for 2CD Players and Solo for Wounded CD, in which numeric values of digital data are altered by physically damaging the CD surfaces. I have a series of new pieces, which started in 2009, that has utilized MP3 called MP3 Deviations. The MP3 Deviation series is based on MP3, which is essentially a recording device, but our team, led by professor Tony Myatt, formerly of Music Research Centre of York University in U.K., intervened and modified the MP3 program so that we transform original sound to be significantly altered. Currently, I am working on creating an artificial intelligence program and artificial life applications, which will hopefully result in completely new pieces.
I have also created sound installations since 1962, and since 1965 I started to make sound interact with the audience. One such venue includes a Volkswagen Showroom in Tokyo. A recent exhibit was shown at the Yokohama Triennale in 2001, in which a museum guide was used as an intervention between the exhibited works and the audience.
- December 2014
Biography
Yasunao Tone is an original member of the Fluxus movement and an artist, writer, theorist, and composer.
Tone has participated in group shows and performances at the 1990 Venezia Biennale, numerous FLUXUS shows, The Japanese Avant-garde since 1945 at the Guggenheim Museum (1994), Bitstreams (2001) at the Whitney Museum, the 2001 Yokohama Triennale, Do It (2001) at Museo Carrillo Gil in Mexico City, Mutations (2001) in Tokyo, I Moderni (2003) at Castle Museum Torino in Italy, and off the the record>sound (2004) at ARC/Museum of Modern Art of the City of Paris. Tone has collaborated on Geography and Music (2001) for Merce Cunningham's Roadrunners (1979), and Palimpsest (2004) with Florian Hecker at MIT Media Lab. In his career as a subversive figure in experimental music, he has worked with musicians, artists, and filmmakers such as Shiomi Mieko, Kosugi Takehisa, Nam June Paik, Yoko Ono, John Cage, George Maciunas, Kanesaka Kenji, and IImura Takahiko, among others.
Tone's 2004 Grants to Artists award supported the development of his piece Paramedia Centripetal (2005), which was performed at the Cut and Splice festival at London Symphony Orchestra St. Luke's. He has since released the CDs Yasunao Tone: MP3 Deviations #6+7 (2011) and Yasunao Tone and Russell Haswell: Convulsive Threshold (2013), and the LP Yasunao Tone: MP3 Deviations #8 (2011). For his performance as part of Ten Years Alive on the Infinite Plain, a festival celebrating ISSUE Project Room's tenth anniversary in 2013, he modified the MP3 encoding system to create chaotic, harsh digital noise.
Tone's solo concerts have taken place at venues including The Kitchen, Roulette Experimental Intermedia, the now-defunct Guggenheim Museum SoHo, and Museum of Contemporary Art Barcelona, among others. Tone's performances at concerts and music festivals include Fluxus Festivals, New Music America, Interpretations, Ars Electronica Festival at Blucknerhaus, Spectacles Vivant at Centre George Pompidou, Sonic Lights in Amsterdam, ATP festivals and Lovebytes festivals, London Musicians Collective Experimental Music Festival, Dissonanze '06 in Rome, Symposium and concert at Australian Broadcasting Corporation Sydney and University of Technology Sydney, Club Intermediale Berlin, Serpentine Gallery London, and REDCAT.
Prior to his 2004 Grants to Artists award, Tone had received a National Endowment for the Arts Fellowship (1982), a New York Foundation for the Arts Fellowship (1986), a New York State Council on the Arts Grant (1996-1997), and the Golden Nica Pirze from Ars Electronica (2002).
Tone graduated from Chiba Japanese National University in 1957. He is a co-founder of Group Ongaku, Hi-Red Center, and Team Random.