YOUNG-HAE CHANG HEAVY INDUSTRIES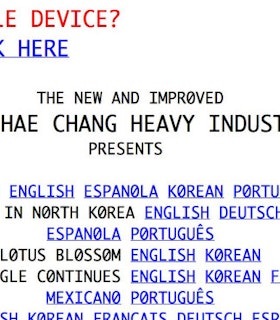 For artists, progress and success are recognizable not from regular promotions and raises but from irregular and fortuitous 'accomplishments' that are left up to them to define. We defined the FCPA grant as not only a promotion and a raise but a sign that we weren't wasting our time—or if we were, that a credible source was offering us a financial incentive to continue to do so.
- Young-hae Chang and Marc Voge, January 2002
Artist Statement
- 2014
Biography
YOUNG-HAE CHANG HEAVY INDUSTRIES is yhchang.com. Based in Seoul, YHCHI creates their signature animated texts set to their own music in 21 languages. Their work has been shown at major art institutions around the world including the Tate Modern, Centre Pompidou, Whitney Museum of American Art, San Francisco Museum of Modern Art, and the New Museum. Their work was also included in the 2003 Venice Biennial. Since receiving their 2001 Grants to Artists award, Young-hae Chang (Korea) and Marc Voge (United States), the two principals of YHCHI, were 2012-2013 Rockefeller Foundation Bellagio Center Creative Arts Fellows.