Yuko Nexus6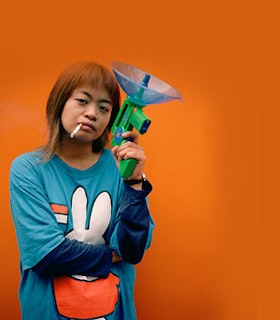 Artist Statement
I am interested in many things including field recording, being a student, singing songs, and performing. To create my compositions, I employ sound sources as basic as kitchen noises (washing dishes, washing rice), spoken text, and the actual sound of the recording device, and then process these samples using a range of technologies from "lo-fi" cassette tape loops to complex computer software. All these various activities and materials are used as tools to communicate with audiences and with space itself.
- December 2006
Biography
Yuko Nexus6 is a composer of time-based and interactive electronic music. She creates sound collages that combine field recordings, samples, digital processing, and her own vocals. Her works involve both highly complex technology and low-tech recording devices. Live performance is an important aspect of her practice and she is committed to finding ways to make her computer-based performances engaging for the audience.
Her albums include Bit Diary (1998), Neko-san, Kill! Kill! (1999), Me being Me (2000), Journal de Tokyo (2002), Translation of Sightseeing (2004), and Nexus6 Song Book (2005). Her album Nexus6 Song Book (2005) features Nexus6 singing jazz, folk, and traditional standards in Japanese, English, and German that she then digitally processes.
Nexus6's 2007 FCA grant supported the production of her sixth and seventh solo albums, café wpao radio show (2007) and WSAGG - Work Shop A Go! Go! (2008). She has performed at venues in Asia, Canada, and the United States, including the Society for the Activation of Social Space through Art and Sound, Los Angeles; Argos Festival, Brussels; Gallery Sowaka, Kyoto; and Ecole Estienne, Paris.
Prior to her 2007 Grants to Artists award, Nexus6 received the Prix Ars Electronica Honorary Mention in Digital Musics (2003).
Nexus6 received a B.A. in Sociology from Kansai University in Osaka, Japan in 1987. She is a lecturer at the Nagoya University of Arts and Sciences in Japan. Since 2001 she has been a member of the artist group Women's Performance Art Osaka.