Yve Laris Cohen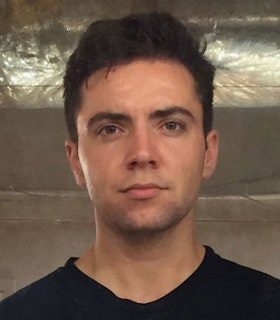 This Grants to Artists award truly changed my life—shifting, if temporarily, my working conditions as an artist from the precarious, even hazardous, to the nourishing and secure. I had thought that precarity was necessary and generative for my work, but I learned that I had been trapped in the limiting logics of scarcity. It felt so good to come to understand that my work can flourish with support.
- Yve Laris Cohen, December 2016
Artist Statement
I position my practice within both visual art and dance, drawing on the legacies of Minimalist sculpture, Institutional Critique, and both postmodern dance and classical ballet. I build material supports—floors, walls, and pedestals—to both outperform and fall short of their intended functions. They come under pressure, and exert pressure of their own, when my transgender body meets them in performance. Currently I am pursuing a line of inquiry at the convergence of labor law, architecture, and the ontology of the theater. My work finds its urgency in the art world's recent incorporation of dance and the rapid architectural changes occurring in museums worldwide in an effort to accommodate performance. For the 2014 Whitney Biennial, I addressed the arms race among visual art institutions to construct so-called flexible performance spaces and grey boxes in this era of the (most recent) performative turn. That project was part of a larger body of work that uses white walls and sprung dance floors with black marley patinas as stand-ins for "white cube" and "black box"—themselves synecdoches for not only the theatrical space and exhibition space, but also visual art and dance as distinct fields and economies.
- December 2015
Biography
Yve Laris is an artist whose work incorporates visual art and dance practices and often deals with the body as medium. Laris Cohen frequently utilizes sculptural and architectural elements in his performances and draws upon classical ballet. "Laris Cohen's performances and attendant installations consider the material conditions by which bodies and objects are created or destabilized, legitimated or devalued... Laris Cohen performatively explores the nature of subjectivity—asking how we come to assume our bodies and by what means they are maintained." (Jenny Jaskey, Mousse Magazine)
Prior to receiving his FCA support, Laris Cohen performed his works in many venues in New York, including Waltz, at Thomas Erben Gallery (2012); Untitled, created with Park McArthur, at SculptureCenter (2012); Coda, also at SculptureCenter (2012); Seth, at The Kitchen (2013); Landing Field: Vito Acconci and Yve Laris Cohen, at Hessel Museum of Art, Center for Curatorial Studies at Bard College (2013); D.S., as part of the 2014 Whitney Biennial (2014); D.C., exhibited at Murray Guy (2014); Platform and Patron, at PLATFORM 2015: Dancers, Buildings and People in the Streets, Danspace Project (2015); and Fine, at The Kitchen (2015). Laris Cohen's 2016 Grants to Artists award supported Embattled Garden, a five-week solo exhibition at Company Gallery in New York during which he reconstructed the Isamu Noguchi set of Martha Graham's 1958 dance of the same name, which had been destroyed during Hurricane Sandy in 2012.
Laris Cohen's work has also been presented and commissioned in New York by Dance Theater Workshop, Company Gallery, Abrons Arts Center, Recess, and Movement Research at Judson Church; and domestically at The Hessel Museum of Art, Bard College, Annandale-on-Hudson, NY; and the Institute for Contemporary Art at the University of Pennsylvania, Philadelphia.
Laris Cohen was an Artist-in-Residence at Movement Research (2010-2012) and has received an Emerging Artist Grant from The Rema Hort Mann Foundation (2011), an FCA Emergency Grant for his Whitney Biennial performance (2014), and a grant from the Franklin Furnace Fund for Performance Art (2015).
Laris Cohen graduated with a B.A. in Dance & Performance Studies/Art Practice from the University of California, Berkeley in 2008, and earned an M.F.A. in Visual Arts from Columbia University in 2011. In 2014 he was a Guest Instructor at New York University, Tisch School of the Arts Department of Performance Studies, and from 2015-2016 he was a Visiting Artist at Cooper Union. He is an advisor for Dance and Process at The Kitchen. Laris Cohen was a Point Scholar as an undergraduate and is now Point Foundation Mentor, which is a scholarship-granting organization for LGBTQ students.