Yvonne Meier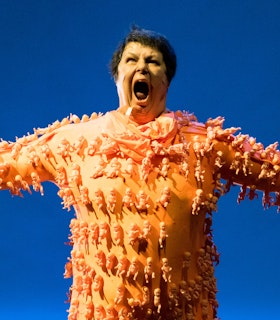 Artist Statement
The "Scores" technique I have developed provides dancers with a frame for experiencing and expressing physical urges from the body in relationship to a given task or situation. Spending time grappling with internal imagery, and exploring the nuances of their presence in the body, informs scores and sequences that make up the final work. Working with materials and props in relation to the body is central to my practice: drawing out their innate qualities, objects become bodily extensions and active collaborators at once, lending specific directives and opening up new possibilities to take form. My resulting dances incorporate a range of structured improvisation, set choreography, and tasks, to outlandish and bizarre ends. There is a high element of risk, embraced in the process and carried through to the final work in a raw, unpolished form; the aim is to draw audience into the precariousness and evoke a visceral experience.
- December 2017
Biography
Yvonne Meier is a dance artist who develops movement material within her own body, which she then performs solo or transfers to other performers. Props, costumes, images, and textures feature heavily in Meier's work, providing a range of spatial and bodily interventions for her performers to navigate. Throughout her career Meier has maintained a deep investigation into the art of improvisation that has resulted in the development of her own signature movement technique, "Scores."
In Meier's solo Durch Nacht und Nebel (2016) and her multi-soloist work Durch Dick und Duenn (2017), performers transform through a rapid-fire sequence of improvisational vignettes and absurdist characters, with a few mechanical surprises thrown in. In Mad Heidi (2002/2012) she worked with a fur dress filled with walnuts as a hybrid costume/prop, and in Durch Nacht und Nebel Meier has used her body to activate props such as a pile of gravel and an ostrich egg. Meier's ensemble piece The Shining (1993/2012), conceived as a "dance thriller," drew upon seductive and repulsive nuances within the experience of fear, with six dancers navigating the audience through a maze of 350 cardboard boxes in the dark. Gogolorez (2010-11) was created in collaboration with specific performers' bodies, actively building the work out of their specific reactions to verbal instructions and props.
Meier's work has been produced in New York by Creative Time; Danspace Project; Dia Art Foundation; Franklin Furnace; Lower Manhattan Cultural Council; MoMA PS1; Movement Research at Judson Church; Performance Space 122; The Kitchen; and the Swiss Institute; and elsewhere by Painted Bride Art Center, Philadelphia; Project Artaud, San Francisco; SUSHI Performance and Visual Art, San Diego; Upper Catskill Community Council for the Arts, Catskill, NY; and Wesleyan University, Middletown, CT. In Switzerland, Meier has performed at Kunsthaus Zürich, Rote Fabrik, Seefeld-Tanzprojekt, Tanzhaus Zürich, and Tanzwerkstatt in Zurich; Belouard Bollwerk International, Fribourg; Kunsthalle Basel, Basel; Kunsthalle St. Gallen, St. Gallen; and at ROXY, Birsfelden. She has toured her work extensively across France, Germany, England, and Holland.
Meier has been published in the books Caught in the Act: A Look at Contemporary Multimedia Performance by Dona McAdams (Aperture, 1996); Footnotes: Six Choreographers Inscribe the Page by Elena Alexander (Routledge, 1998); and The Danspace Project 25 Years (1999). She has received honors and awards from Pro Helvetia (1986, 1993, 2004) and the National Endowments for the Arts (1987, 1988, 1991), among others. She is the recipient of three New York Foundation for the Arts Fellowships in Choreography (1988, 1994, 2006); New York Dance and Performance "Bessie" Awards for The Shining (1993) and Stolen (2010); a Franklin Furnace Fund Grant (1994); and a John Simon Guggenheim Memorial Fellowship (2016).