Yvonne Rainer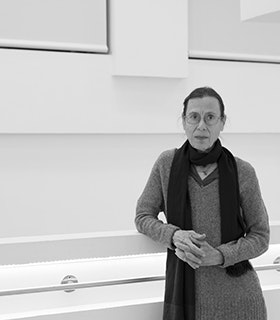 The FCA award loosened the ever-present noose that hangs over creative people these days with the question 'How can I go on doing what I do?' The award even allowed me to take a vacation. Maybe that's not its primary purpose, but it certainly engendered a space for reflection and renewal. Many thanks.
- Yvonne Rainer, January 19, 2016
Artist Statement
My overall M.O. can be described as an attempt to juxtapose and interweave materials or contents that aren't usually seen together, such as an abstract dance move and simultaneously recited political screed, or a filmic image and superimposed unrelated title. I appreciate the ability of the audience to follow two or more parallel or interrupted trajectories that intersect and sometimes collide with unexpected results, or a collision of the personal and political carried to unpredictable lengths. My films focus on issues of race, gender, and sexual identity. As a choreographer, I continue to combine diverse sources of movement with specific social and political concerns conveyed through language. Although my recent choreography cannot be said to have a unifying theme, aging is an important component, as subtext and actuality.
- December 2014
Biography
Choreographer and filmmaker Yvonne Rainer trained with Martha Graham and Merce Cunningham as a dancer, and was a co-founding member of the Judson Dance Theater in 1962. She sought to blur the lines between performers and non-performers, and incorporated gestures and pedestrian movements, as well as classical dance steps and theatricality into her choreography. Her body of work has been to multiple disciplines and movements including dance, film, minimalism, conceptual art, and postmodernism.
In 1972, Rainer transitioned to filmmaking following a fifteen-year career as a choreographer and dancer from 1960 to 1975. After making seven experimental feature films including Lives of Performers (1972), Privilege (1990), MURDER and murder (1996), she returned to dance in 2000 with a commission from the Baryshnikov Dance Foundation for the White Oak Dance Project titled After Many a Summer Dies the Swan. Since then, Rainer has choreographed works such as AG Indexical, with a little help from H.M. (2006), RoS Indexical (2007), a Performa07 commission, Spiraling Down (2008), Assisted Living: Good Sports 2 (2011), and Assisted Living: Do You Have Any Money? (2013).
With the support of her 2015 Grants to Artists award, Rainer premiered The Concept of Dust, or How do you look when there's nothing left to move at The Museum of Modern Art, New York. This work involves seven performers, including Rainer, in movement configurations and readings by the performers; it was later performed at Teatro Sociale, Como; Le Louvre, Paris; and Danse Objectiv Marseilles.
Her dances and films have been shown worldwide at venues including Anderson Theater, the Whitney Museum of American Art, the Guggenheim Museum, New York Film Festival, the Brooklyn Academy of Music, Dance Theater Workshop, Danspace Project, and the Museum of Modern Art.
Prior to her Merce Cunningham Award, Rainer received several National Foundation for the Arts Grants, two John Simon Guggenheim Memorial Foundation Fellowships, a MacArthur Fellowship (1990), a Wexner Prize (1995), The Rockefeller Foundation, Arts and Humanities Grant (1996), the and retrospective exhibitions at Kunsthaus Bregenz and Museum Ludwig, Cologne (2012), the Getty Research Institute, Los Angeles, Raven Row, London (2014), and the Jeu de Paume and Ferme du Boisson in Paris (2014), and the Distinguished Artist for a Lifetime Achievement Award from the College Art Association (2014).
A memoir, Feelings Are Facts: a Life, was published by MIT Press in 2006. A selection of her poetry was published in 2011 by Paul Chan's Badlands Unlimited. She is a Distinguished Professor Emerita of Studio Art at the University of California, Irvine.