Zeena Parkins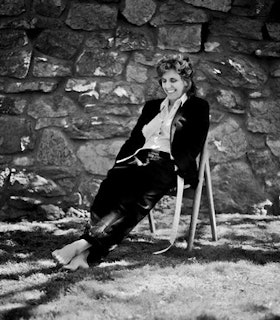 Biography
Zeena Parkins is a multi-instrumentalist, composer, and improviser. She has built three versions of her one-of-a-kind electric harp, and has extended the language of the acoustic harp with the inventive use of unusual playing techniques, preparations, and layers of electronic processing. Parkins is inspired by and connected to visual arts, dance, film, and history.
Parkins blends and morphs both real and imagined instruments and sounds, draws from extra-musical sources for unusual scoring and formal constructions, and utilizes multi-speaker environments. She engages with sound as material and music in the specific spaces in which it is experienced. She often creates scores for dance and continues to re-evaluate the way that the body, movement, sound, and music interact.
Parkins has released solo records, compositions and band projects on Tzadik Recordings. She often collaborates with artists such as Christian Marclay, Yoko Ono, Björk, Pauline Oliveros, Ikue Mori, Fred Frith, Elliott Sharp, Kim Gordon, Thurston Moore, James Fei, John Zorn, Yasunao Tone, Dame Evelyn Glennie, Maja Ratjke, Butch Morris, Chris Cutler, Tin Hat, Nels Cline, Alex Cline, Anthony Braxton, and Lee Ranaldo.
Parkins has been commissioned to create compositions for the Whitney Museum of American Art, the Merce Cunningham Dance Company, Tate Modern, Ne(x)tworks Ensemble, Roulette, The Eclipse Quartet, William Winant, Bang on a Can, Montalvo Arts Center, and The Donaueschinger Musiktage. She has composed works for dance artists including Neil Greenberg, BodyCartography Project, Jennifer Monson, Jennifer Lacey, DD Dorvillier, and John Jasperse. Parkins was a guest curator for the Music Unlimited Festival in Wels, Austria and a co-curator of the Movement Research Festial: Sidewinder in New York City.
Parkins received institutional recognition several years after her 1997 FCPA award. She was the recipient of a New York Foundation for the Arts Music Fellowship, a Meet the Composer Commission, a New York State Council on the Arts Composer Commission, a MAP Fund Grant (2004), a Peter S. Reed Fellowship, a Civitella Ranieri Foundation Fellowship (2004), a British Academy Film and Television Award for Best Interactive Media with visual artist Mandy McIntosh and sound artist Kaffe Matthews; a Prix Ars Electronica honorary mention for Phantom Orchard in the digital music category (2004), a Mary Flagler Cary Charitable Trust commissions, and in 2014 was awarded a Doris Duke Artist Award.
Parkins has lectured at Oxford University and Princeton University, and has taught at Bard College and the School of the Museum of Fine Arts, Boston. She is currently a distinguished visiting professor at Mills College in the graduate music department. Parkins has held residencies at Oxford University, Harvestworks Digital Media Arts Center, Studio for Electro-Instrumental Music, Performing Arts Forum, Wooda Arts Residency, The Watermill Center, and Integrated Electronic Arts at Rensselaer Polytechnic Institute.