Andrew Schneider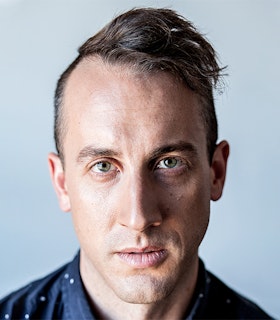 The single-most valuable asset for an artist is time. I think time is the most sought after, misunderstood, surreptitiously commodified, and indefinable medium an artist has. The 2020 Grants to Artists award has given me this—above all else—time. It has given me time—from the moment I received the phone call informing me that I was a recipient—to the moment I am writing this sentence.
Looking back, I actually think that this year has provided me with the most growth as an artist of my entire career.
- Andrew Schneider, February 4, 2021
Artist Statement
We live in an increasingly synthetic world of our own making. In the name of more and faster connection, we are animals that have separated ourselves from the actual world around us. The work I make is highly technical, but It is not about the technology. I am more interested in the application of the technology and how it can bring us closer together, shake us from the synthetic, and offer a genuine experience to every audience member's consciousness, rather than just watching something "over there." I am interested in how curating meaningful time-based experiences can lead to more meaningful human-to-human interaction. If theater at its core is humans telling stories about ourselves to each other, than I hope it is in the service of getting better at being human. This is why I make the work that I make. This is also how I try to make the work that I make—with an incredible team of value-aligned, recurring collaborators who are interested not just in the work of making experience, but in the vigorous interrogation of what power structures exist in the rooms in which we create and how to systemically try to make change in inequitable systems.
- December 2019
Biography
Andrew Schneider is a performer, writer, and interactive-electronics artist. Schneider creates and performs original performance works, builds interactive, electronic art works and installations, and was a company member of The Wooster Group from 2007-2014. Rooted at the intersection of performance and technology, Schneider's work suggests that the phenomenological impact of art is no different from any other category of lived experience.
Schneider's original performance work in New York City includes AFTER (2018), the second in a series of works that use visual and aural effects to produce a landscape of sensory overload and examine the idea of interconnected systems. AFTER premiered at the Under the Radar Festival at The Public Theater. YOUARENOWHERE (2015), the first work in this series, is a rapid-fire existential meditation that uses a range of references, from physics lectures to personal revelations, to short-circuit individual preconceived notions of perspective. This work, which premiered at the Invisible Dog Art Center, Brooklyn and subsequently toured in the United States and Europe, won an Obie Award (2015) and was nominated for a Drama Desk Award (2016). Schneider's multimedia dance and performance piece DANCE/FIELD (2014), presented as part of the curated series DanceRoulette, received a Foundation for Contemporary Arts Emergency Grant.
TIDAL (2013), performed in the Lower Manhattan Cultural Council's River to River Festival, is a multimedia performance piece set on Lower Manhattan's East River that turns the viewer's perception of time backwards. Using cameras, projectors, microphones, and underwater cameras, this work sets the stage for a physical and technological experiment in time travel.
Schneider has been a recurring collaborator with The TEAM, Lars Jan/Early Morning Opera, David Dorfman Dance, Hotel Savant, Fischerspooner, Kelela, and AVAN LAVA. His off-Broadway designs include Dolphins and Sharks at the Labyrinth Theater, Small Mouth Sounds at Ars Nova and the Signature Theatre, and Roosevelvis at the Vineyard Theatre. Schneider has taught classes on technology and performance at Bowdoin College, Carleton College, and Connecticut College.
Andrew holds a B.F.A. in Theater Arts from Illinois Wesleyan University and an M.P.S. in Interactive Telecommunications from New York University. He was a Professor of Practice and Visiting Fellow in Theatre Arts and Performance Studies through the Brown Arts Initiative at Brown University (2019), as well as an adjunct professor in the Interactive Telecommunications Program at New York University (2009, 2019).