Cameron Jamie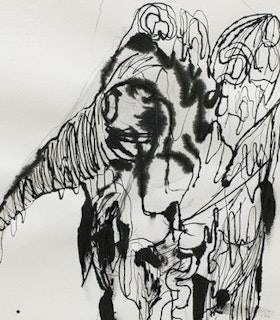 The grant widened the definition of freedom for me to create and gave me a charge to start a project immediately which I probably could have never realized... I suppose it all comes down to electricity. You gave me the electricity to keep my little flashlight lit. For so long, I've been carrying it around and you gave me the charge to keep it going, which makes it nice to know that it still works.
- Cameron Jamie, January 14, 2009
Artist Statement
I yam what I yam.
- Popeye
- 2008
Biography
Cameron Jamie is an artist whose practice encompasses film, performance, photography, drawing, and sculpture. Jamie often examines European and American societies through their specific ritualistic practices.
His films produced prior to his 2008 Grants to Artists aware include BB (1998-2000), which traces the phenomenon of backyard wrestling in Southern California, with a live score by the metal punk band the Melvins; Kranky Klaus (2002-03), which takes the Austrian Krampus ritual as its subect; and JO (2004), which is scored by Japanese noise artist and composer Keiji Haino and investigates nationalism, patriotism, and bigotry in celebrations in Orléans, France and Coney Island, New York. With the support of his Grants to Artists award, Jamie traveled to the Austrian Alps to collaborate with a traditional wood carver to create a sculptural project of masks, some of which were exhibited at the Yokohama Triennale (2008). After receiving his 2008 FCA grant, Jamie created Massage the History (2010), with a soundtrack by Sonic Youth.
Before he received his 2008 FCA grant, Jamie's work had been featured in solo exhibitions at Spencer Brownstone Gallery (1998), Yerba Buena Center for the Arts (2001), The Wrong Gallery (2003), Centre Georges Pompidou (2003), and the Walker Art Center (2006); as well as in group exhibitions at Kunsthalle Wein (1998, 2007) and the Museum of Modern Art in Antwerp (2005). He had staged film performances of his work at the California Institute of the Arts (1994), University of California's Royce Hall (2004), the Venice Biennale (2005), Festival d'Automne in Paris (2006), Symphony Space (2006), and Massachusetts Institute of Technology (2007).
Since his 2008 Grants to Artists award, Jamie's work has been the subject of solo exhibitions at Hangar Bicocca, Milan (2009); the Hammer Museum at the University of California, Los Angeles (2010); Gladstone Gallery (2010, 2015); and Kunsthalle Zurich (2013). His work has been included in group exhibitions internationally at Museum of Modern Art, Antwerp (2008); California College of the Arts Wattis Institute for Contemporary Arts (2008); the Berlin Biennale (2008, 2010); MoMA PS1 (2009); the Hammer Museum at the University of California, Los Angeles (2010); the Museum of Contemporary Art, Los Angeles (2010); Kunsthalle Wien (2010, 2013); Palazzo Grassi (2012); Museum of Contemporary Art Detroit (2012); and Palais de Tokyo (2013); among others. Jamie's film performances have also since been staged at Luxor Theater Rotterdam (2008), and The Museum of Modern Art (2011).
In 2008, Jamie received the First Annual Yanghyun Prize from the Yanghun Foundation in Seoul, South Korea.