Keiji Haino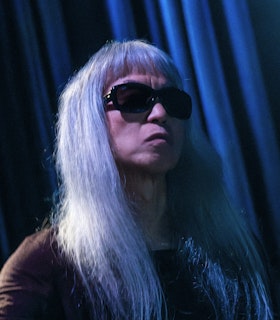 Artist Statement
Me and now—which is blurring into which?
By having the 1 fulfilled, you might need the next and move on further. You will want to invite the next (2), which will be completely different, to its side. You will want the speed and shape of the invited to be different. This emerges as the deepest now, which cannot be expressed in numbers (metronome) and is difficult for people to understand. People count on a Japanese word "ma" as a quick definition to it. I used to call it that, too, because I could not fully explain it.
People describe my performance, especially percussion, as improvisation. However, as mentioned above, it is an act of fulfilling each and every sound, and I try to form a universe hitting the floor, jumping onto the wall, or approximating my own body to an instrument from time to time. It is an attempt conceived in the middle of the situation, which cannot be fully described as composition, arrangement, or even transformation (possession). It is then that what is called music becomes something next.
My idea is that I want to connect with everything that breathes. And I think that is a discipline in order to connect also with everything that does not breathe.
- December 2022
Biography
Keiji Haino is a musician who advocates for and practices a musical monism that deems each sonic occurrence singular and irreversible, annihilating the difference between composing and performing, and annulling the interpretation (of written music) and improvisation. He draws inspiration from rock, depriving it of negativity, inflexibility, and resentment. Through idiosyncratic techniques, Haino pushes the guitar, hurdy-gurdy, and other string, wind, and percussion instruments—as well as DJ equipment and electronics—to the extreme. This enables him to freely explore, collaborate, and experiment with any genre, style, and tradition.
Inspired by Antonin Artaud, Haino was drawn towards theater, but an encounter with The Doors steered him towards music. He has since examined and absorbed a wide range of expressions, from the early blues—especially Blind Lemon Jefferson—to European medieval music, to popular songs.
In 1970, he joined the group Lost Aaraaf, named after Edgar Allan Poe's poem, as a vocalist. He also began to work on home recordings and taught himself guitar and percussion. Haino formed the rock band Fushitsusha (which loosely translates to "The Unlost") in 1978 and has also been a member of groups such as Nijiumu, Aihiyo, Vajra, Sanhedrin, Seijaku, Nazoranai, and The Hardy Rocks. He has collaborated with artists from different musical and artistic backgrounds, including Derek Bailey, Peter Brötzmann, Lee Konitz, John Duncan, Fred Frith, Charles Hayward, Loren Connors, John Zorn, Faust, Jim O'Rourke, Stephen O'Malley, Oren Ambarchi, SUMAC, Boris, Koichi Makigami, Merzbow, Kazuo Ohno, Min Tanaka, and Saburo Teshigawara.
Haino has released more than two hundred recordings and performed live at least two thousand times.