Carmen Winant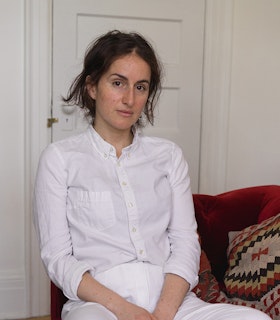 About $10,000 of the grant went directly toward childcare. I cannot overstate the value of this contribution… more than studio assistants, more than material costs, more than travel budget lines, more than anything, childcare enables me to make my work.
- Carmen Winant, December 26, 2021
Artist Statement
I am a photographer who no longer makes her own images. My work revisits and recontextualizes the feminist histories that preceded my own, reaching backward as an attempt to understand the space between our lived experiences, and the larger, if nuanced and sometimes contradictory, aims of women's liberation. As such the found photographs that run throughout my work — integrated into books, installations, billboards, or discrete objects — are not evidence of a history, but in fact its very living residue. These projects, all of which work to unravel foreclosed histories, often take the form of ad hoc archives and pay particular interest to women's power, pleasure, labor, and self-actualization. Lately I've turned towards imagination, optimism, and joy as shared, necessary tools of the artist and the revolutionary.
- December 2020
Biography
Carmen Winant is an artist whose work utilizes installation and collage strategies to examine feminist modes of survival and revolt.
In 2018, Winant presented Looking Forward to Being Attacked at SculptureCenter in Long Island City, NY. The sculpture featured a collage in the round, holding hundreds of instructional images of women engaged in self-defense and was supported by a Foundation for Contemporary Arts Emergency Grant. Later that year she presented My Birth as part of The Museum of Modern Art's exhibition Being: New Photography. This large-scale installation was comprised of over 2,000 found images of women giving birth, taped directly to two walls in the museum gallery. Winant gathered printed materials on the process of labor and childbirth, many of them from 1970s feminist movement literature, acquired through garage sales, birth worker contacts, and eBay. An artist book of the same name which included photos of her mother's childbirths was published in 2018. Her next book, Notes on Fundamental Joy; seeking the elimination of oppression through the social and political transformation of the patriarchy that otherwise threatens to bury us (Printed Matter, 2019), continued to explore similar themes of family-making. Notes on Fundamental Joy brings together photographs made by women involved in the feminist back-to-the-land movements of the 1970s with her own text.
Winant's solo exhibitions include Togethering at the Fortnight Institute, Brooklyn, NY (2020); A History of My Pleasure, 14a, Hamburg, Germany (2019); and XYZ-SOB-ABC (Twenty-six billboards around Canada), CONTACT Photography Festival, Toronto, Canada (2019). She has also presented work in several group exhibitions.
Her work is included in the collections of The Museum of Modern Art in New York, NY, The Minneapolis Institute of Art, Minneapolis, MN, and Henie Onstad Kunstsenter in Sandvika, Norway. Winant is the recipient of a Pew Center for Arts & Heritage Grant (2020), a Guggenheim Fellowship in Photography (2019), and the Ohio Arts Council Individual Excellence Award (2018).
Winant holds a B.A. from the University of California, Los Angeles and an M.F.A. and M.A. from California College of the Arts. She is the Roy Lichtenstein Chair of Studio Art at The Ohio State University.