David Grubbs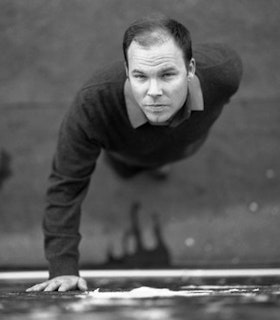 Beyond the obvious shot in the arm that the material support has provided for my work, I am gratified to have been identified with other grant recipients past and future as well as the organization's founders... Let me return to the metaphor of a shot in the arm—a renewal of confidence, of mission. For me this has been perhaps the most significant result of the grant and of feeling welcomed into the society of artists who have been recognized by the Foundation... The grant came at a time that approbation for a relatively new impulse within my work was much needed.
- David Grubbs, February 4, 2007
Artist Statement
I first started making records as a teenager in Kentucky in the early 1980s. The record is still my favorite medium, because it strikes me as a multidisciplinary form. It combines music and visual art, allows for the creation of group identities or individual personae, and facilitates contact across geographical and temporal distances. Furthermore, I've always conceived of sound recording as a framing device for chance and impossible-to-script idiosyncracy.
I'm currently at work on a book about writing the history of 1960s musical avant-gardes through their recordings. It's a tendentious angle, given that so many new genres in the 1960s, following John Cage's lead, virtually defined themselves in opposition to being represented in the form of a recording. Yet in the intervening years, recordings have become the way that music from this period is most often encountered.
The people from whom I've learned the most are those with whom I've been fortunate to collaborate. John McEntire, Jim O'Rourke, Mayo Thompson, Stephen Prina, Tony Conrad, Will Oldham, Luc Ferrari, Susan Howe... that's about as short a list as I can provide in good conscience.
- December 2005
Biography
David Grubbs is a composer, musician, and writer. He works in a wide range of avant-rock musical forms and frequently collaborates with other artists on multimedia projects.
Grubbs has released twelve solo albums and he has appeared on over 150 commercially released recordings. He was a founding member of the groups Gastr del Sol, Bastro, and Squirrel Bait. He has performed with the Red Krayola, Will Oldham, Royal Trux, Tony Conrad, Pauline Oliveros, and Mats Gustafsson, among others. With the support of his 2006 FCA grant, Grubbs collaborated with poet Susan Howe on Souls of the Labadie Tract, which they performed at Southbank Centre in London, Yale University, and Walker Art Center. Souls of the Labadie Tract was released as a CD in 2007. Subsequent to his 2006 Grants to Artists award, Grubbs released the solo album The Plain Where the Palace Stood (2013) and authored Records Ruin the Landscape: John Cage, The Sixties, and Sound Recording (2014).
He is known for his collaborations with writers such as Howe and Rick Moody, and with visual artists such as Anthony McCall, Angela Bulloch, and Stephen Prina. In 2013, Grubbs and Bulloch presented their performance work The Wired Salutation at the Centre Pompidou and at Tanz im August festival in Berlin. Grubbs is also a featured musician in Augusto Contento's documentary film Parallax Sounds (2013).
Grubbs received a B.A. in English at Georgetown University in 1989 and an M.A. and Ph.D. in English from the University of Chicago in 1992 and 2005, respectively. He is an Associate Professor in the Conservatory of Music at Brooklyn College, CUNY, where he also teaches in the M.F.A. programs in Performance and Interactive Media Arts and Creative Writing. He serves on the board of directors at ISSUE Project Room and is director of the Blue Chopsticks record label.